Bradley Cooper won an 'Oscat' award for 'A Star Is Born' - thanks to his dog
The 2018 film is disputing seven categories in the upcoming Academy Awards, but "Best Director" is not one of them. Nevertheless, nonprofit organization PETA is recognizing the director for working with his own dog.
It might not be the kind of award he was expecting for his feature film debut as a director, but he should be proud of it nonetheless, and he has his dog Charlie to thank for it.
People for the Ethical Treatment of Animals (PETA) recently announced the winners of their second edition of the "Oscat" Awards and 44-year-old Bradley Cooper was honored as last year's Best Director.
Bradley Cooper's Dog Helps Win Him Win PETA's 'Oscat' Award for 'A Star is Born' https://t.co/3c0o76Me64 pic.twitter.com/Q3sKH7UHUb

— TheWrap (@TheWrap) February 12, 2019
Cooper's "enlightened decision to cast his own canine companion in 'A Star is Born,' rather than using one supplied by a notorious animal exhibitor" earned him the accolade, as PETA'S Film and Television Film Division explained.
"There was no nepotism — I wanted this relationship with the dog," the actor-turned-director said about his casting Charlie in the film, back when it premiered.
PETA honored Bradley Cooper with its 2019 Best Director Oscat https://t.co/MKCYGgl66w

— Vulture (@vulture) February 17, 2019
"[Jackson and Ally] don't have a child together but they have a dog together, and I wanted it to be part of their story. I love dogs."
-Bradley Cooper, People, October 2, 2018.
There is no doubt that Charlie is very dear to Cooper, who named the labradoodle after the star's late father, who died from cancer in his son's arms in January 2011. "That meant a lot for him to be in the film," the director said.
Cooper also joked about Charlie's newfound fame going to the dog's head. He "has an agent. I don't talk to him much anymore. He doesn't return my calls. He always walks away from me unless I have food," added Cooper.
The animal right's organization other winners on this edition include "Black Panther" for Best Movie, Natalie Portman for Best Actress, Winston Duke for Best Actor, and Wes Anderson's "Isle of Dogs" for Best Animated Film.
"PETA is thrilled to recognize the people and projects behind Hollywood's most significant animal rights advances of the year," the organization stated.
While Cooper and Charlie's relationship was born at home, there are many movie and TV stars who have fallen in love with their animal costars on the set.
"Games of Thrones" Sophie Turner found it hard to be separated from Zunni, the Mahlek Northern Inuit dog that played her pet in the series, after its character "Lady" dies on-screen.
"We knew Lady died and they wanted to re home her. My mum persuaded them to let us adopt her," Turner told Coventry Telegraph in 2013.
Actor Will Smith also wanted to take his German Shepherd co-star in "I am Legend," Abby, but he wasn't as lucky as Turner and had to let her go.
"She has her own family now so it was just another one of those fleeting Hollywood romances," Smith joked about it in 2007.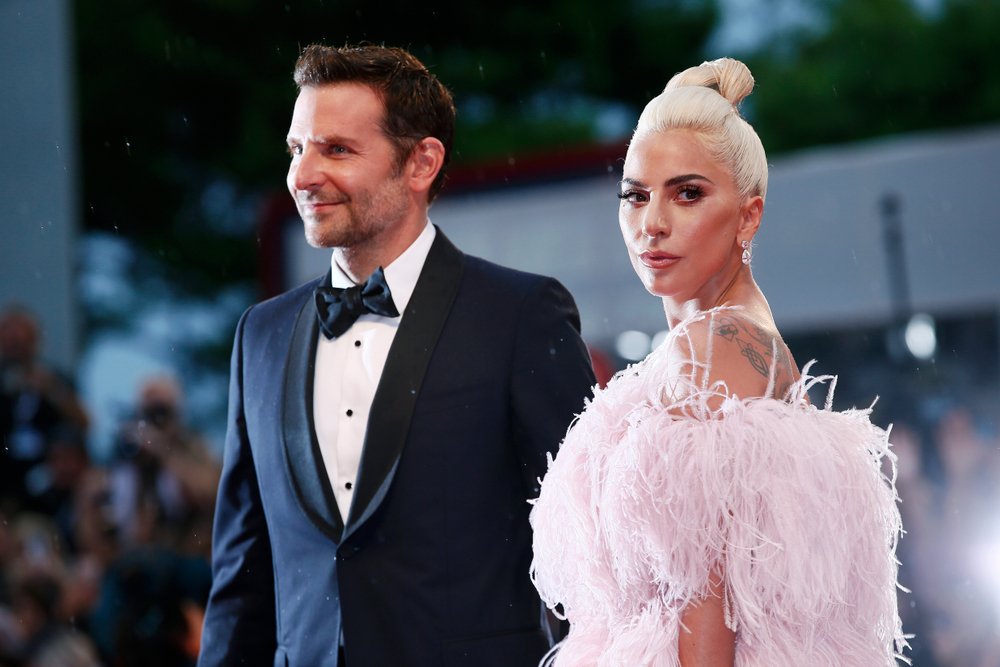 Cooper's promising night at the Academy Awards is around the corner, as the award show will take place on February 24.
But apart from the expectation surrounding his film's several nominations, the multitalented actor is "terrified" about one thing in particular.
Cooper and Lady Gaga are going to perform their Oscar-nominated song "Shallow" during the ceremony, and even if it is not the first time they do this in front of a live audience, he is reportedly pretty nervous about it.