Charcoal face masks under fire as it reminds social media users of racist blackface
People on Twitter claimed that charcoal face masks are racist since they resemble "blackface" - yet not every person is convinced.
Charcoal face masks are utilized to help enhance the skin by unclogging pores. The item is black in color because the main ingredient, which is charcoal, also happens to be black.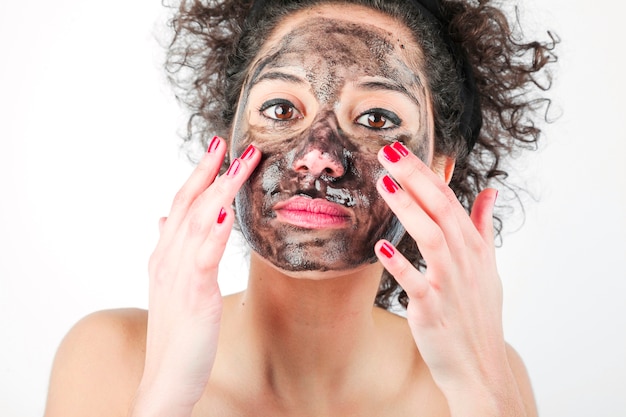 "Jesus Christ its CHARCOAL, it's supposed to be black. Stop trying to make everything racist!"
The debate around the product started recently when Nicole Paula Oliver took to Twitter to point out that it was racist to wear the charcoal face masks. She tweeted:
"Racism is so insidious that you can promote blackface for years under the guise of 'pore mask' and it goes unchecked."
A number of tweets also expressed concern at the products.
Eliz Bee wrote: "Charcoal masks look uncomfortably similar to black face. I feel weird and will be hiding in the bathroom for 8-10 minutes."
"White women love self care and doing casual black face with charcoal face masks," said Ali Macofsky.
Flesh Frog asked: "Aren't we ever going to address how the Charcoal Mask takes blackface up to 11? You put it on, it looks really racist, then you pull off the black to get flawless skin."
Nicole's tweet earned a great deal of attention, and she faced a major backlash with many saying the issue had "been taken too far."
Atomic Zombie Records tweeted: "Obviously, I'm being sarcastic. Blackface is wrong, and anyone who takes part in that racist and insensitive act should be held accountable. But we can't undermine the effort to expose & condemn this form of racism by taking it to ridiculous extremes. We have to use common sense."
"Go on genius....how do we make charcoal any colour other than black ? Charcoal is the lightweight black carbon and ash residue hydrocarbon produced by removing water and other volatile constituents from animal and vegetation substances," said Saylor Moon.
Bonitazivot wrote: "Jesus Christ its CHARCOAL, it's supposed to be black. Stop trying to make everything racist!"
A series of scandals recently brought the issue of "blackface" back into the headlines.
Megyn Kelly's "Today" show run at NBC was canceled due to some controversial remarks she made about blackface. 
"You truly do get in trouble if you are a white person who puts on blackface at Halloween or a black person who puts on whiteface. That was OK when I was a kid, as long as you were dressing like a character," she said at the time.
Kelly sent a letter to her associates and regretted on air following her controversial comments.
"This past year has been so painful for many people of color, the country feels so divided, and I have no wish to add to that pain and offense," she said. "I believe this is a time for more understanding, more love, more sensitivity and honor and I want to be part of that."
Kelly's exit deal with NBC was finalized a month ago. According to reports, she was given the rest of her $69 million contract.