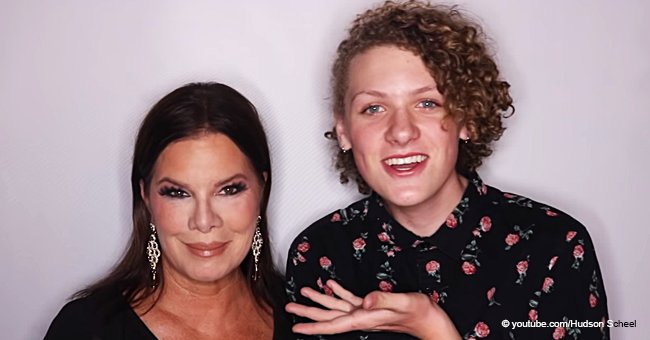 Marcia Gay Harden's 14-year-old son shares a new video of him choosing his make-up

Hudson Scheel, the 14-year-old son of Marcia Gay Harden, posted a video of him randomly choosing his make-up by shuffling musicals.
Many of us like to be in control of different aspects of our lives. Not very often do you see people leave little decisions to chance and still get an impressive result. But that is precisely what Marcia's son, Hudson, did in his latest YouTube video.
The 14-year-old came up with an innovative idea of blending makeup with musicals. He created a playlist of different musicals and matched each one to a specific color. So, each time he shuffles, the next song dictates the next color he'll use in the makeup process.
Though he didn't get his desired colors, the makeup still turned out alright in the end. The idea is amazing, and the way he pulled it off is a bit astounding. It goes to show his makeup prowess at only 14 years of age.
In an earlier video he uploaded, Hudson created a glam look for his mom in preparation of her red carpet event, and he detailed out the entire process from start to finish.
The young boy displayed some impressive feats, like bronzing a foundation that was too light, lining someone else's waterline, and successfully baking a face.
Hudson revealed that he developed a passion for makeup at a very tender age, saying:
"As a kid, I grew up watching incredible makeup artists transform my mom for photo shoots and various red carpets. But it was (the TV show) 'RuPaul's Drag Race' that inspired me to try it myself. It was the artistry and freedom of it all that led me to try my first drag transformation, an homage to the famous queen Katya!"
It is almost certain that in a few years he would become a full-blown makeup whiz.
Hudson is the last of Marcia Gay Harden's three children. He has been able to open up about his sexual orientation, revealing that he is gay. His mom is determined that he inherits a future where his rights are guaranteed.
Speaking at the "Family Equality Council's annual Impact Awards" she attended with her son, the actress said:
"The cause is dear to me [...] my son is gay. I just want to make sure he gets to have a family when he wants one."
With a loving mom and a supportive family, Hudson, who is a budding vlogger, is set to conquer the world!
Please fill in your e-mail so we can share with you our top stories!