'Klan needs to ride again': Alabama paper sparks backlash for posting a racist editorial
An editorial in an Alabama newspaper believes it is time for the Ku Klux Klan to return to get rid of the Democrats, Socialists, and Communists.
A small-town newspaper in Linden, Alabama, called Democrat-Reporter, published a controversial editorial last week entitled "Klan Needs Ride Again." The editorial, although without a signature, was written by Goodloe Sutton, who is the editor of the newspaper.
According to Sutton, "Democrats in the Republican Party and Democrats are planning to raise taxes in Alabama" what he considers to be communist and socialist policies. For this reason, he claims that the extremist organization return to its old practices.
The publisher of a small-town newspaper in Alabama called for return of the KKK to clean out "socialist-communists" in D.C. https://t.co/xZ8hhw6NPo via @mgmadvertiser

— Gene Bryant (@GeneBryant2) February 19, 2019
"Time for the Ku Klux Klan to night ride again," those were Sutton's first words in the brief nine-paragraph editorial that was published on February 14. The editor asks with express words that Klan returns to "clean D.C."
Sutton attacks the government's spending policies again and again, and then makes a strange reference to the slaves saying that, according to him, "sometimes ... they borrowed the suits and horses of their masters and rode during the night to scare someone evildoers."
The Montgomery newspaper asked Sutton to explain what he expected the Klan to do, to which he responded without hesitation that "we'll get the hemp ropes out, loop them over a tall limb and hang all of them."
It seems that the editor has a different concept of what are human rights and violence because when asked if he considered the Klan violent, Sutton replied: "a violent organization? Well, they didn't kill but a few people," he said: "the Klan wasn't violent until they needed to be."
Sutton not only defended his position again but, in addition to blaming the "democrats" for instigating all American wars of the 20th and 21st centuries, he went further, asking that the officials in Washington be lynched.
You know you've been working in the newspaper business in Alabama too long when you see the headline "Alabama newspaper editor calls for Klan return to 'clean out D.C.' " and think, "I bet it was Goodloe Sutton."

And then you're right. https://t.co/atVfu4kVVH

— Michael Rodgers (@GT_MRodgers) February 19, 2019
"These are socialist-communists we're talking about (not real Americans). Do you know what socialism and communism is?" Sutton asked.
"Seems like the Klan would be welcome to raid the gated communities up there," he said, "if we could get the Klan to go up there and clean out DC, we'd all been better off," Sutton claimed.
The controversial article went viral on Monday after Chip Brownlee, the editor-in-chief of the Auburn Plainsman at Auburn University, posted it online. Now, members of Congress have called for the resignation of Goodloe Sutton for incitement to violence.
Sutton inherited the ownership of his father's newspaper and has worked on it since the 1960s. The Democrat-Reporter does not seem to have a website that works even though it does have a Facebook, fortunately, the pro-Klan editorial was not published on this social media.
This story reminds us of a New York high school student who was driven to tears after a classmate made a racist Snapchat post about her. The girl's family is now considering legal action.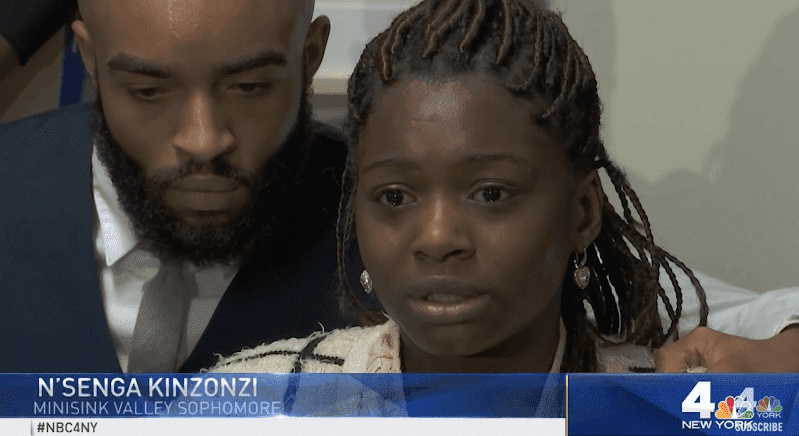 N'Senga Kinzonzi, a sophomore at Minisink Valley High School in Orange County has spoken out about becoming the subject of a racist Snapchat post, and the young girl could not hold back tears.