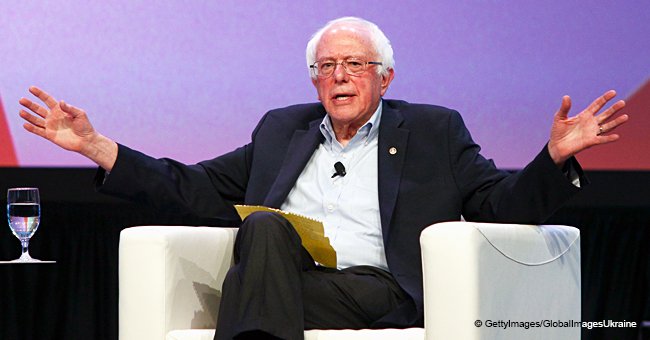 Bernie Sanders picked over $1 million in just a couple hours after announcing his presidential race

In the bid for the 2020 Presidential seat, Senator Bernie Sanders declared on Tuesday morning, that he would be racing for Democratic presidential nomination, and barely four hours after he did, his campaign received over a million dollars in donation.
An aide confirmed that as at 7am in the morning, the sum received by the campaign group had reached $1 million and was still growing. All these were donations by people in 50 states.
The eye-popping sum will inevitably have raised alarms bells at rival groups and put the other contenders on their toes. As time goes, if the amount keeps rising, it will have surpassed the amount he made in the first 24hrs of his first run for the White House, back in 2015 which was a whopping $1.5 million.
The fundraising donations have been known to help out the candidates in realizing their campaign tactics, and it goes a long way. Bernie won't be the first to gather up a lot of funds shortly after making his candidacy public. Sen. Kamala Harris as well, in January, raised about $1.5 million from more than 38,000 people, within 24 hours of the declaration.
This doesn't always happen because, Democratic Senator; Elizabeth Warren, Kirsten Gillibrand, and Cory Booker, did not see similar spikes when they launched their campaigns – even though they each still have millions of dollars to back themselves in their presidential campaign account.
Warren had nearly $12.5 million in her 2018 reelection campaign at the start of the year; Gillibrand had approximately $10 million; and Booker's campaign had about $4.1 million at the end of 2017, according to stats from the Federal Election Commission.
Bernie Sanders had earlier revealed his aspiration to move America forward when he declared he was running for Presidency in 2020 agaisnt President Donald Trump of the Republican Party.
All of the money received by the Sanders campaign group cannot be confirmed yet, because they still have to file for their first campaign report with the Federal Election Commission, which will be later in March. The senator is very confident he would win in the elections, or maybe it is just an indication that he believes in himself.
Talking to CBS, this morning's co-host John Dickerson, he says: "We're gonna win", Sanders went on to say that this time is different, as he vows to launch a grassroots movement that will "lay the groundwork for transforming the economic and political life of this country."
And also that he has learned from his first campaign. The fact that he that an amount of money at such short notice isn't even alarming because people will show support for whoever they believe in. Soon, it will be time for debates, and the candidates will defend why they should be let into the White House to rule the great nation. In all fairness, may the best man win!
Please fill in your e-mail so we can share with you our top stories!