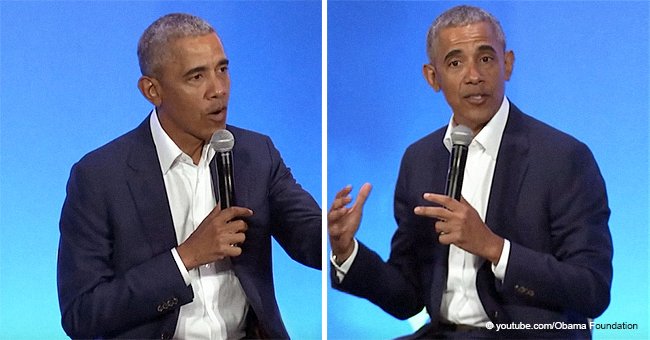 Obama opens up about what it really means to be a man, discussing racism and toxic masculinity

Former US President, Barack Obama, has revealed what it really means to be a man in a discussion about racism and toxic masculine stereotypes.
President Obama spoke recently on how to keep masculine stereotypes in check, which according to him, are aimed at trapping young men, especially those of color.
The former President gave this speech at a conference for his "My Brothers Keeper" initiative which held in Oakland. The initiative, which is personal to him, was created in 2014 by his foundation to help "close opportunity gaps facing young men of color."
President Obama, in the company of NBA superstar, Steph Curry, said that men of color have to realize that "being a good person is what it means to be a man," adding that "you have to be a person who is accountable, respectful, kind, and hard working."
He also demystified the myth that walking over someone is what it means to be a man or having the ability to be domineering amongst your peers.
Conversing with Curry, the former President went on to say that as a young man of color, acting in a wrong way because you don't feel respected is not the way to go. He said;
"If you are confident about your strength, you don't need to show me by putting others down. Show me by lifting others."
Curry responded to this statement by saying;
"I've just been mentored right here."
President Obama introduced himself at the beginning of his speech as "Michelle's husband," and Curry as "Ayesha's husband." He told his audience not to let themselves be influenced by cultural influences which create stereotypes, adding that they don't need to brag about women and put up sexist images of them to feel confident about themselves.
He said;
"Men who are confident don't need to have women twerking around them,"
Before speaking at the conference, the former president was seen enjoying a barbecue in the company of Curry, Chrissy Teigen, along with Ayesha Curry and Chef Mina at "Ayesha's International Smoke" restaurant on President's Day.
He and Curry have also been seeing much of each other as Curry's "Golden State Warriors" paid the former President a visit in Washington D.C. last month.
Please fill in your e-mail so we can share with you our top stories!