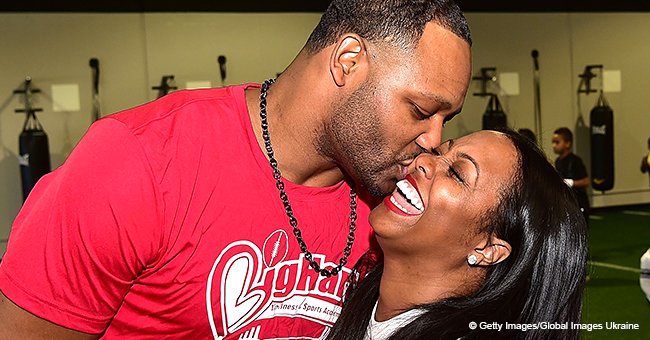 Ed Hartwell reportedly marries woman Keshia Knight Pulliam says he cheated on her with

Keshia Knight Pulliam's ex-husband has supposedly married the woman he cheated with, Tonya Carroll.
Not so long ago, social media was agog with the scandal of Keshia Knight Pulliam's divorce from former American football linebacker, Ed Hartwell.
While Keshia has been concentrating on raising their adorable 2-year-old, it appears that Ed has moved on, and tied the knot with the woman he stepped out on the actress with - Tonya Caroll.
TONYA CARROLL AND ED HARTWELL MARRIED?
Keshia and Ed were undoubtedly the stars of one of the messiest celebrity divorces ever, but Tonya played a significant role. She and Ed were accused of attempting to cause Keshia to miscarry her baby, among other ugly rumors.
The woman who is supposed to have caused the divorce between the "Cosby Show" star and the American football player, set off a wave of speculation when she posted a photo on her Instagram account which seems to be a wedding announcement.
THE PHOTO IS WORTH A THOUSAND WORDS
In the photo, Tonya can be seen dressed in a white hoody, and on the back is printed:
"JUST MARRIED - MRS HARTWELL - 02-17-2019"
The image clearly indicates that Ed and Tonya tied the knot. She captioned the post: #destiny ?? #madetoluvya ?.
The court attributed primary custody of Ella to Keshia and ordered the former football player to pay $3,007 per month in child support.
ED HARTWELL'S YOUNGEST CHILD
Ed and Tonya have just welcomed their daughter Sevynn Elíse Hartwell - who is the athlete's third child. He shares son Ed Jr, 11, with first wife Lisa Wu-Hartwell; and Ella Grace, 2, with Keshia.
KESHIA'S POST ON THE SAME DAY
On the same day, Keshia posted an image saying:
"Every girl deserves a guy who can make her heart forget it was ever broken."
She captioned the post: #HappySunday ?. Is the actress hinting that there is a new love in her own life? Hopefully, Keshia will soon recover from the crushing blow of her messy divorce, give some great guy a chance, and find the love and happiness she deserves.
KNIGHT PULLMAN/HARTWELL DIVORCE STILL IN THE HEADLINES
Although it appears that Ed Hartwell has now remarried, he is going back to court, claiming he is paying too much child support, and demanding more time with their 2-year-old daughter, Ella Grace.
In April 2018, the court attributed primary custody of Ella to Keshia and ordered the former football player to pay $3,007 per month in child support.
Keshia has responded by pointing out that Ed had denied Ella's paternity, forcing the actress to submit the baby to a DNA test - so his claim to wanting more time with the child is a way to ask for reduced child support. The ruling on the case is still pending.
In a related story, Keshia Knight Pulliam steals hearts with mirror selfie of her 'mini-me' Ella Grace, in a black jacket & tutu.
Please fill in your e-mail so we can share with you our top stories!