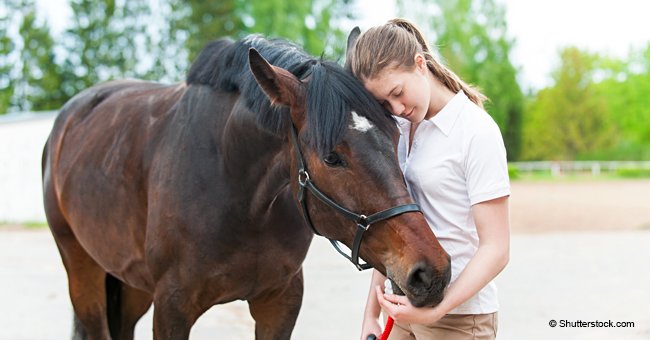 Girl pens tearful farewell to her horse who died of sugar overdose because of soulless burglars
Princess Kamara passed away after thieves fed her 44 pounds of carrots. Her bereaved owner took to social media to mourn the loss.
A Four-Year-Old mare died from complications of eating too many carrots overnight. It was found out that the yet-to-be-identified burglars had fed her about 150 carrots in an attempt to keep her quiet as they raided the stables. They emptied a sack full of carrots next to Kamara, and this silenced her.
Francesca reportedly found her horse sick the next morning, as she saw the empty sack as the only visible evidence of what had happened during the night. Sadly, the excessive sugar dose caused severe damage to the cob's intestinal lining, making it very difficult for her to consume anything else.
She was, however, kept alive for three weeks through the use of antibiotics.
It was a harrowing decision for Maples who decided to end Kamara's agonizing pains. It would have been too "cruel" to continue to keep her alive despite what she was going through.
23-year-old Maples let nothing back as she penned down a heartfelt tribute, dated February 10, to the deceased mare. The letter included fond words as Francesca detailed how lovely it had been watching her grow. In a sad note, she expressed great regrets of the unfortunate occurrence.
"I'm so sorry this happened to you, we tried everything but sometimes what's broken cannot be fixed!" - Maples
Heartfelt gratitude to "aireworth vets" who she mentioned did their best to keep Kamara alive for as long as she did. On a closing note, she wrote:
"At least your no longer in pain, and can go run free with your mum up there, she will look after you. Till we meet again little one, I love you, R.I.P princess Kamara."
The 23-year-old's emotions were clear and the message, posted via Facebook, has since garnered numerous comments all showing support for Francesca. The perpetrators, however, still roam free leaving the police with no solid lead since the incident. It is a rather distasteful occurrence, one that sadly isn't the first nor the last of its kind.
A new report says that some unknown persons killed a horse in Waititi. The horse named Star was found dead after being stabbed 41 times! The sheer cruelty has spurred local authorities on as they strive to find the offenders.
The heartless crime has since caught the attention of the media considering that it took place in a quiet town like Waititi.
Please fill in your e-mail so we can share with you our top stories!