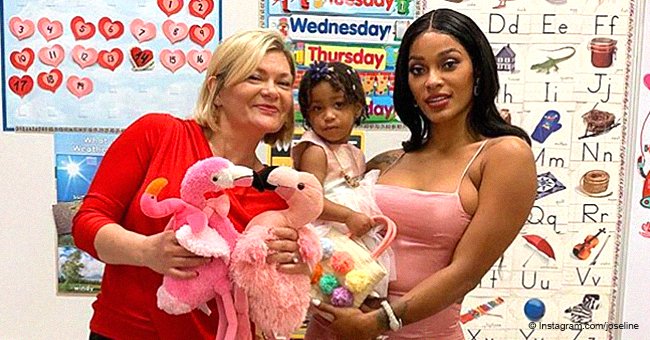 Joseline Hernandez slammed for wearing revealing outfit to daughter Bonnie Bella's school
"Put on some clothes," a fan told Joseline Hernandez after showing up in her daughter's school wearing a skimpy outfit with cutouts.
Joseline Hernandez is not one to be shy about her body and would often flaunt her curves in daring outfits. But fans of the Latina star had to draw the line when she showed up in her daughter's school in an inappropriately skimpy, revealing outfit.
Joseline shared photos of her school visit where she attended a tea party with her daughter Bonnie Bella. Both were on point wearing colors of spring. Bella wore a pink tutu dress and a hat to match.
Her mother wore the same shade but fans agreed she took things too far. She was wearing a tiny, body hugging dress with cutouts on the side and a revealing neckline. A shocked fan who saw one of her photos wrote,
"Omg you went to your daughters school like that????????You are [expletive] classless"
Another couldn't help but comment and ask her to "put some clothes on."
"This is your daughter's day, not yours. Put some clothes on for once in your life."
Still, another chimed in and gave Joseline a piece of advice.
"Learn to dress properly for any and all occasions. Clothes are nice but learn when and where to wear them"
This isn't the first time Joseline gained negative feedback for an outfit she wore around her child. It was only last week when fans slammed her for wearing an eye-popping bikini top during a photo session with her daughter.
And while she's often accused of being inappropriately dressed, she also got a scolding for her choices for Bonnie's clothes. In one particular photo she shared, a fan commented that the 2-year-old looked like an old, homeless person with her clothes.
Joseline has been vocal about being cautious of posting photos of Bonnie due to the criticism she would always get. As such, she consciously makes an effort to cut down on her posts about her. However, now that she decided to share a happy moment with her daughter in school, it was still met with backlash.
Please fill in your e-mail so we can share with you our top stories!