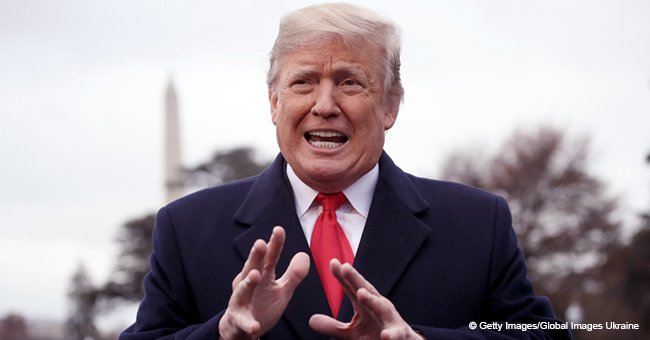 Trump calls himself 'your all-time favorite President' as he slams Washington Post in new rant
President Donald Trump is everyone's "all-time" favorite president. The president mentioned this in a tweet he shared on his page.
When it comes to clapping back and unnecessary bants, no one does it better than POTUS. Donald prides himself in knowing how to shade others even in times when it is unnecessary.
On February 19, the President threw shade at the Washington Post's fact checker. This happened after the Post declared in an article that the president's speech announcing a national emergency on the border was "chock-full of false and misleading claims."
This must have riled Trump up cause he took to his twitter page to reply with the message:
"The Washington Post is a Fact Checker only for the Democrats. For the Republicans, and for your all time favorite President, it is a Fake Fact Checker!"
Still, on building the Mexico border case that's caused a lot of havoc between the Democrats and the Republicans, Trump declared a national emergency on Thursday to communicate his intention to spend $8 billion to build the wall. This was after legislation was signed to avoid another government shut down.
The Washington Post's Fact Checker blog in their report claimed that most of the alleged facts and figures suggested by Trump in his justification were false.
As if that wasn't enough, the Post used their fact checker to analyze Trump's 759 days in the office; it was deduced that the president had made 8,718 invalid claims.
Although the Post always finds a way to poke at the president, calling most of his words false, Donald Trump also manages to get back at them. Sometimes taking it as far as going after their owner, Jeff Bezos.
One of the times the President showed his beef with the news agency was when he tweeted his support for Nicholas Sandmann, a Covington teenager who was suing them for a whopping sum of $250 million.
Nick sued for defamation of character with the demands made by his lawyers that the paper "wrongfully targeted and bullied" him. During a protest, Nick was accused of taunting a native American man, but the 16-year-old has since said it was a lie and he did no such thing.
In regards to this, the president tweeted:
""The Washington Post ignored basic journalistic standards because it wanted to advance its well-known and easily documented biased agenda against President Donald J. Trump." Covington student suing WAPO. Go get them Nick. Fake News!"
It seems like the beef between the two sides isn't ending anytime soon.
Please fill in your e-mail so we can share with you our top stories!