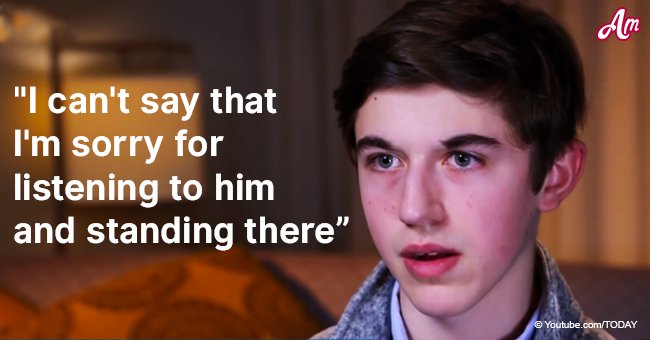 Nicholas Sandmann, teen with 'MAGA' hat in viral video, shares his side of the story
The teenager from Kentucky that became known for his smirking face in a viral video taken at Washington DC during the March for Life event spoke with NBC.
Nicholas Sandmann, a student at Covington Catholic High school in Park Hills, Kentucky spoke to Savannah Guthrie during an interview for the Today show on Tuesday. They discussed his experience during the protest, which he said got misunderstood.
The 16-year-old and his Covington school classmates made headlines when Nicholas got filmed smirking at a Native American, Nathan Phillips, that walked up to him chanting and drumming his face, as the student said:
"As far as standing there, I had every right to do so. My position is that I was not disrespectful to Mr. Phillips. I respect him. I'd like to talk to him."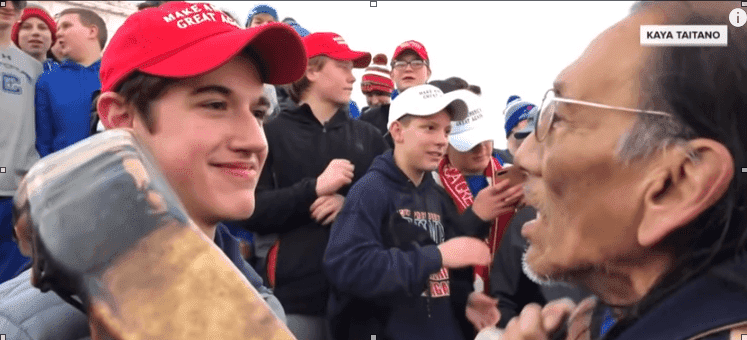 Nickolas Sandmann and Nathan Phillips on the steps of the Lincoln Memorial on January 18, 2019.| Photo: YouTube/TODAY
Nathan, a Vietnam War veteran and Omaha elder, attended the Indigenous Peoples March along with other Native American people, that took place at the same time as the March for Life protest.
A group of Hebrew Israelites, which the Southern Poverty Law Center claims is "growing more militant" aggravated the situation.
While Nicholas and his classmates waited for the buses to arrive, the Hebrew group began chanting and screaming hate speech towards the school children, and called them names like "racist" and "bigots."
Adding that he nor none of his classmates are racist people, the students responded by doing "school chants" and denied that anyone of them chanted "build that wall" or anything disrespectful to others.
Having received support as well as backlash for his behavior in the viral video, Nicholas is of the opinion that he stood his ground, and wore what he thought to be a passive smile, as he elaborated:
"I mean, in hindsight, I wish we could've walked away and avoided the whole thing. But I can't say that I'm sorry for listening to him and standing there."
Nathan Phillips is also set to appear on the Today Show on January 24, to recount his side of events. The native American corroborated Nicholas's account of events and confirmed that he approached Nathan.
Meanwhile, Nicholas and his family retained the services of RunSwitch, a public relations firm run in part by a former member of Senator Mitch McConnell's staff.
RunSwitch confirmed the retainer and issued a statement to the Courier-Journal that said they "offer professional counsel with what has become a national media story." They added that they are working with the family to ensure an accurate recount of events during the protest.
However, Savannah Guthrie faced backlash on social media for the way she handled the interview with Nicholas and referred to it as a "sham" and "not journalism."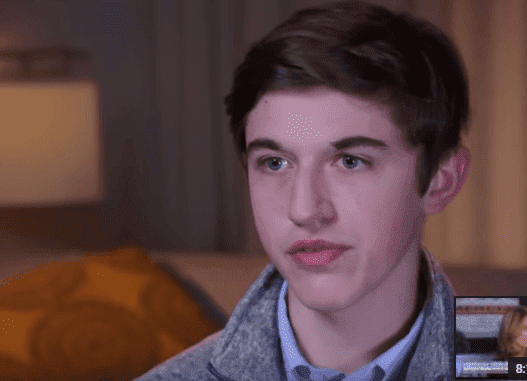 Nathan Sandmann having an interview with Savannah Guthrie from the TODAY show on January 23, 2019 .| Photo: YouTube/TODAY
Laura Ingraham from Fox News said Savannah had "that very concerned look on her face" and that she's "better than that!"Fox News media critic, Howard Kurtz spoke in support of Savanna and
"I think the criticism of Savannah Guthrie is completely unfair. She did what any journalist would have done. The fact that some people didn't like it says more about their own partisan, political, ideological views."
As far as protesting for rights are concerned, close to 100 Muslim workers employed at Amazon's fulfillment center in Shakopee protested against unequal wages, how productivity is managed and the lack of diverse leadership.
Their chanting of "Hear our Voice" apparently fell on deaf ears as numerous meetings between Amazon and leaders from the Twin Cities' East African immigrant community resulted in no change.
Please fill in your e-mail so we can share with you our top stories!