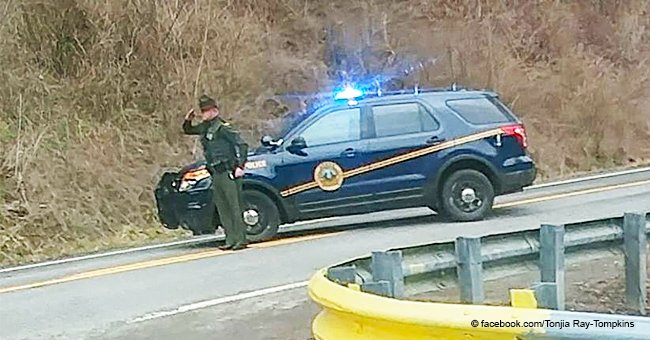 Photo of trooper paying tribute to a funeral procession with a salute quickly goes viral

The small things in life that make a big difference can sometimes pass us by, but Tonjia Ray-Tompkins saw something beautiful during a funeral procession and had to share.
On February 18, Tonjia was part of her grandmother's procession as it wound through the town of Oceana in West Virginia en-route to the gravesite.
Ahead of them in the road, Tonjia spotted a state trooper, later identified as Richard Paynter. He blocked all traffic allowing the procession to pass unhindered and saluted each vehicle until they stopped at her grandmother's final resting place.
Soon she took to Facebook and uploaded a picture of the trooper and added words that expressed her gratitude for her hometown of Oceana:
"When I am so frustrated with living in West Virginia and wondering why I came home. This is why I came home!"
Tonjia spoke with Daily News about the thoughtful act of the state trooper and explained her main reason for the post:
"I posted this because I wanted people to see my hometown for what it still is. It is a community where people care about each other. This loved one that was being laid to rest wasn't the mayor; she wasn't a town council member; she wasn't a member of law enforcement."
Grateful for living in a small town like Oceana with a population of only 1,394 Tonjia added in her post:
"Oceana... many people can say what they will, but it will forever be my home! Small towns that pull over and sit as your loved one is carried out of town to their resting place. The people on the streets even stood still as we passed. The people here are just different."
The post soon went viral, having been shared almost 3,000 times the comments streamed in, as many showed their appreciation towards the action of the state trooper, as one person replied:
"Now that is true RESPECT for others. Thank you state trooper, you are awesome."
Fellow West Virginians chimed into the comments, proud of their state as a man wrote:
"Yep...I'm proud to be a West Virginian. I live out of state now and have for years, but we are cut from a different cloth. West Virginians make me proud ? ?."
But this is not the first time a state trooper made headlines. The honor, respect, and kindness another state trooper showed towards a homeless man made headlines and inspired many.
Another act that went viral got captured by Bessemer resident Jenny Reed while sitting in the McDonald's drive-thru. She noticed a state trooper give a homeless man food he had just bought at McDonald's, but little did she know there was more to the story.
She shared a picture of the kind act on social media and soon found out the state trooper to be Alabama State Trooper, Justin O'Neal. Justin saw the homeless man as he walked along Interstate 59 on his way to North Carolina. The man had not eaten in days, and Justin did what he believed to be "the right thing."
But for a good reason Justin couldn't stand by and do nothing as he said:
"As a trooper, our main job is to save lives and protect property, but as a Christian and as a human being, that's just the right thing to do."
In a related story, another Alabama State Trooper went above the call of duty when a family's car broke down in the middle of nowhere.
Please fill in your e-mail so we can share with you our top stories!