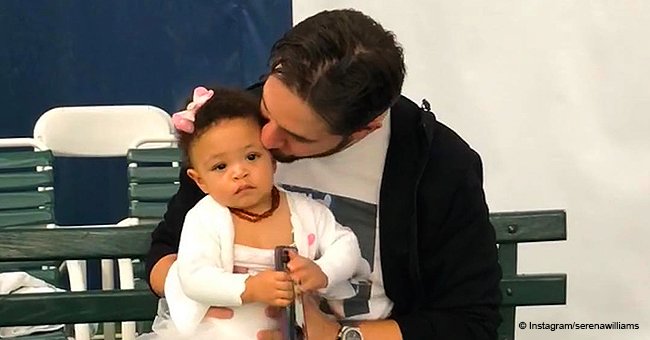 Serena Williams' husband Alexis says 'it's easy to be a proud father' of daughter Olympia

Alexis Ohanian recently gushed about being a proud father to his daughter with Serena Williams, and it's not much different from what the doting dad has been saying for the past two years.
During a Tuesday appearance on the "Third Hour of Today," the internet entrepreneur added that being a father to Olympia Ohanian is a life-changing experience.
Speaking to the show co-hosts, Alexis, 35, said:
"It's easy to be a proud father of that little baby. It's been life changing and it's something that I never knew I wanted it badly until I had it, and then it just changed everything."
Alexis and his tennis superstar wife, Serena, welcomed their daughter in September 2017, two months before they tied the knot.
The Reddit co-founder was on the morning show as part of promotional appearances for his new campaign with Dove Men+Care which will give $5,000 grants to fathers who want to take paternity leave.
Alexis revealed that he took 16 weeks off of work when Olympia was born. Serena, 37, had a difficult delivery and suffered subsequent complications, so that paternity leave must have come in handy.
"Entrepreneurship is all-consuming; It's sleepless. We call our startups our 'babies.'"
Despite being a big name in the internet/tech industry, Alexis seems to have blended perfectly into fatherhood and does not miss an opportunity to emphasize the importance of family.
Last June, the tech mogul made headlines after restating the importance of paternity leave and how it helped him build a connection to his daughter and wife.
"My wife had had a really great pregnancy but then complications during and after the birth meant she was dealing with a lot herself and I had to do everything I could to be the supportive husband and supportive father, and it really put into perspective for me how important creating this family leave policy is for men and women who want to become parents."
It comes as no surprise, however, that Alexis is a doting father who can't help speaking about Olympia in glowing terms.
Only two weeks after her birth, Alexis already declared that Olympia means more to him than any career achievements.
"Entrepreneurship is all-consuming; It's sleepless. We call our startups our 'babies,' we are ridiculously proud of them, and we pour all of ourselves into them," he captioned a black-and-white image of baby Olympia. "But she is already all that and more, she is my legacy."
When Alexis is not at work, you can find him posing for funny pictures with his family or holding on to Olympia as they cheer Serena at tennis matches.
Please fill in your e-mail so we can share with you our top stories!