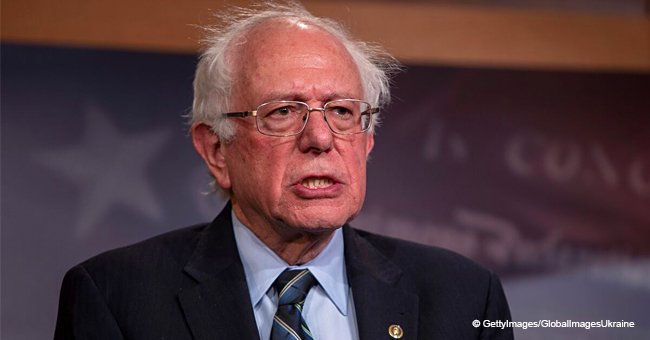 Meghan McCain calls Bernie Sanders the 'most popular' US politician: 'Don't underestimate him'
Tuesday on "The View" Meghan McCain called Senator Bernie Sanders a "formidable candidate" hours after he announced his presidential bid for 2020.
Panelists on "The View" discussed his announcement as Meghan sung the praises of "the most popular politician in the country right now."
Meghan pointed out the Debbie Wasserman Schultz scandal, and Hillary Clinton tanked with the DNC. This time around Bernie doesn't have the DNC petitioning against him and no opposing superdelegates, as Meghan said:
"The thing I will say about him is don't underestimate him – he got 60 percent of New Hampshire in 2016, 49 percent in Iowa. He's still the original — with all socialist disciples coming up after him," McCain said of Sanders. "I think he's a truly formidable candidate; I wouldn't underestimate him."
When Senator Sanders announced his bid on Tuesday, he became part of a field of other Democrats heading towards the same goal. The Democratic Senator Kamala Harris from California announced her bid earlier this year, as well as Kirsten Gillibrand and Elizabeth Warren.
According to early polls, Sanders has good numbers. The liberal blog Daily Kos did a February straw poll which showed Sanders way ahead of Biden, Warren, and Harris.
Meghan McCain was on fine form in Tuesday's show during another segment of the show when she spoke to Andrew McCabe. The former FBI director got fired in 2018 after an inspector general report concluded he lied about leaking information about the investigation of Hillary Clinton's emails.
The talk show host minced no words and asked the former FBI director point blank whether he leaked information to The New York Times as she took him on with an icy demeanor:
"I don't believe you're a reliable narrator and I'm not convinced this isn't just some kind of PR campaign to stop yourself from getting indicted. You were fired at the recommendation of the FBI, which, in your book, you cite four times how great of an organization it is, for your lack of candor."
She then demanded Andrew say on national television in so many words that he was not the source of the leaked information to The New York Times or any other publication. Stunned Andrew looked at Meghan and said, "Absolutely not, not at any time, ever."
When thinking of Meghan McCain, the word demure would probably not cross your mind, but during a segment on February 12, Meghan threw a "hissy fit" on air, and Joy Behar had a priceless reaction.
Please fill in your e-mail so we can share with you our top stories!