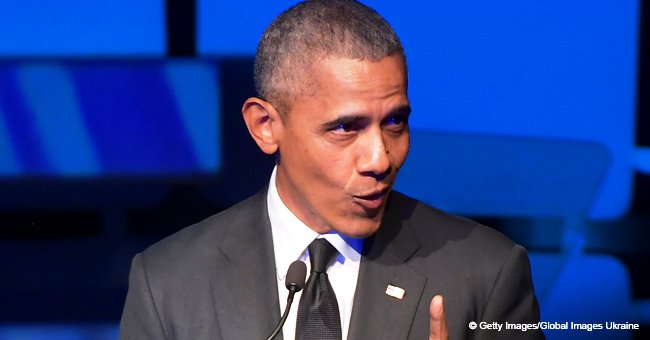 "You Don't Have to Have 8 Women around You Twerking," Barack Obama Gives Advice to Young Men
Barack Obama gives sound advice to young African American men during a speaking engagement where he talks about what it means to be Black and confident.
Barack Obama left a lasting impression on the young men who listened to him speak about being a man and being Black at the "MBK Rising! My Brother's Keeper Alliance" summit in Oakland, California.
The former president, who was at one point joined by NBA legend Steph Curry on stage spoke about the negative connotation of Black pop culture and what it really means to be confident in your own skin.
"Let's face it: A lot of hip-hop and rap music is built around me showing how I got more money than you," he began. "I can disrespect you and you can't do nothing about it, I'm going to talk about you and punk you. Ironically, that actually shows the vulnerability that you feel!"
The 57-year-old continued by driving to the point of his message.
"We tend to rise to the expectations that are set for us. If a young boy is taught early on, 'You are going to be kind to people, not bully people,' that will have an impact. If you say, 'You treat young women with respect. They are not objects. They are humans with the same aspirations and desires, and they are just as worthy of respect as you are,' that has an impact."
Earlier in that Q&A discussion, Obama encouraged his audience to defy stereotypes and realize the real nature of self-worth.
"We live in a culture where our worth is measured by how much money we have and how famous we are. I will tell you, at the end of the day, the thing that will give you confidence is not that. I know a lot of rich people that are all messed up!"
He further explains that flaunting material possessions and having women all over you is not the true gauge of a confident man.
"If you are really confident about your financial situation, you probably are not going to be wearing an eight-pound chain around your neck because you know, 'I got bank. I don't have to show you how much I've got because I feel good,'"
"If you are very confident about your sexuality, you don't have to have eight women around you twerking . . . because [you know], 'I've got one woman, who I am very happy with. And she's a strong woman.'"
Obama's latest speaking engagement celebrates the fifth year of My Brother's Keeper, the foundation he formed in 2012 as a result of the tragic death of Trayvon Martin. The 17-year-old was unarmed when he was deemed a suspicious person by a neighborhood watch captain who eventually shot and killed him. The shooter, George Zimmerman was acquitted after he claimed self-defense.
Martin's death spawned a movement called #BlackLivesMatter in protest of the killings of Black people due to unfair judgment. A documentary about Martin's story was released last year and produced by Jay-Z. It became quite controversial after Beyonce was allegedly threatened by Zimmerman during filming. Zimmerman reportedly sent some nasty texts to the singer including one telling her that she and her husband would find themselves "inside a 13-foot alligator." Read more about that story here.
Please fill in your e-mail so we can share with you our top stories!