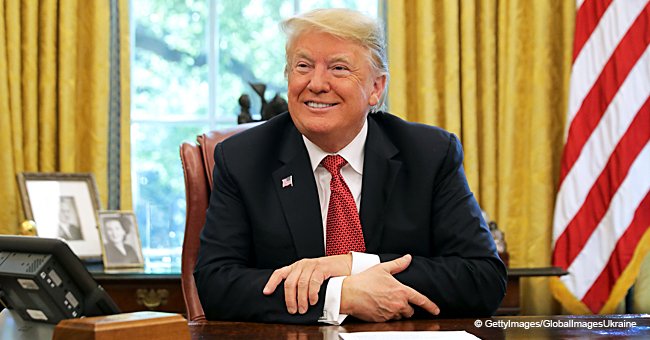 Lara Trump shared a cute pic of her son and users can't help comparing him to POTUS

Lara Trump posted an adorable photo of herself and her son Eric "Luke" Trump on social media, and many people noticed the remarkable resemblance between the one-year-old boy and his grandfather President Donald Trump.
Lara, who tied the knot with Eric Trump in November 2014, took to Instagram recently to share a snap of herself and Luke playing on a slide. She simply captioned the post: "Wheeeeeeeee!"
"He looks so much like his Grandpa--right down to the hair!! Handsome boy."
Since it was published on Instagram, it has been liked over 19,000 times. A lot of users also added their thoughts via comments, with some comparing Luke to Donald Trump.
The kid's tufted, blond hair is the center of attention as it is reminiscent of his grandfather's famous, unruly locks.
One person wrote: "Your boy is literally so beautiful. Blessings to all of you."
"[Lara] he's got his grandpa's hair. So so adorable I love it," added another.
Another user commented: "He looks so much like his Grandpa--right down to the hair!! Handsome boy."
Eric and Lara welcomed Luke in September 2017. The child is the couple's first and the president's ninth grandchild.
The proud father declared the birth of his little boy on Twitter, saying:
"[Lara] and I are excited to announce the birth of our son, Eric "Luke" Trump at 8:50 this morning."
Donald Trump, who was recently reported to have arrived unannounced at a wedding ceremony at the Trump National Golf Course in Bedminster, immediately took to Twitter to congratulate the couple.
Shortly after welcoming their baby, Eric and Lara spoke to Fox News.
"He's a great baby, he really does not cry that much, he's so sweet… and he has a lot of hair. Apparently, he has more hair than most babies," Lara said.
Eric added that Luke has "the Trump hair." He also revealed that he too had begun his life with the well-known Trump quality, he had bleach blonde hair.
Please fill in your e-mail so we can share with you our top stories!