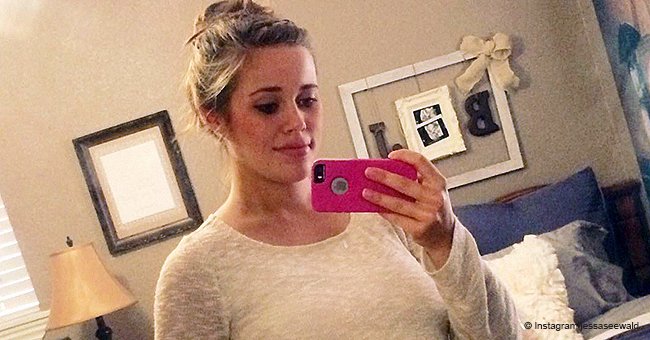 Jessa Duggar Shows off Baby Bump as She Mourns Sister-in-Law's Miscarriage in a Touching Message

Jessa Duggar Seewald is a proud mom-to-be of three as she shares a picture of her baby bump on Instagram. She's also mindful of the loss experienced by her brother and sister-in-law.
Duggar shared a post of her tummy at 25 weeks pregnant as she expressed sentiments about the recent miscarriage of sister-in-law Lauren Duggar.
In addition to the post of herself, Jessa shared text posts giving condolences, encouragement, and speaking about Lauren's personality. The photos are found below.
In the caption, she began:
"Pregnancy— such a precious gift, and definitely not something I take for granted. As we look forward to meeting our baby, we're also feeling an exceptional amount of grief over my brother Josiah and sister-in-law Lauren's loss of their baby."
Jessa revealed that she and Lauren had the same due date and that she was there for Lauren during her grief.
She continued:
"We have cried so many tears, both together and apart. My heart aches for them. I weep when I think of how difficult it must be for her to see me pregnant in the very stages where she would've been— right up through the baby's due date."
Jessa went on to sympathize with others who might have gone through the same experience and now feel alone. She said that while she doesn't want to speak for the sake of it, "conversations of lost dreams should never feel suppressed."
She further insisted:
"We must all reinforce the fact that emotions over a life lost are not something to be resisted. They're not wrong, and you should never think that for a moment."
Lauren, 19, miscarried in October 2018 and spoke about it publicly this month. This is the first time that Jessa has expressed how she is mourning with her family.
In January 2019, she and husband Ben announced they were expecting. More than likely they were being considerate of the grieving relatives with their late timing.
The "Counting On" stars Lauren and Josie spoke to PEOPLE about the miscarriage. Josiah explained that they were getting ready to go on a weekend trip for a wedding.
That's when Lauren fell sick. Josiah said he "didn't know exactly what was going on. Yet they got a friend to help with the situation.
Laurent then described what she went through:
"I wasn't feeling well. I was cramping really, really bad, which was quite strange because I normally don't. I was thinking maybe I had something that had gluten in it. It was late at night and I went to use the restroom and there was the baby. Gone. I couldn't believe it and I was hoping it wasn't true."
The couple shared a post to Instagram on February 11 detailing their experience and why they they chose to share it. They wanted to make sure that others like them know they are not alone.
The pair, who got married in June 2018, said that their baby was now in and they were comforted knowing they would one day get to see him or her there.
Before Jessa touched on the sensitive topic of her sister-in-law's miscarriage, she shared a sonogram with fans of her upcoming baby in early February.
She shared the scan of baby number three alongside those of her two bigger children. Showing her sense of motherly humor, she compared the noses of her three children, including her unborn, in the caption.
Please fill in your e-mail so we can share with you our top stories!