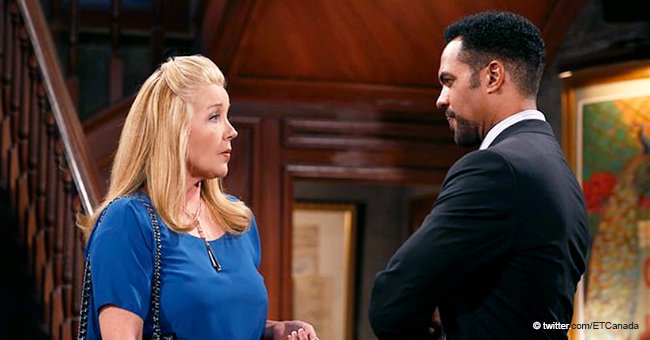 'I adored him,' Melody Thomas Scott fights back tears while remembering co-star Kristoff St. John

The late Kristoff St. John's "The Young and the Restless" co-star, Melody Thomas Scott, is still mourning his death.
Scott, known for her role of Nikki Newman on the long-running soap, said on The Talk that there was something "unique" about St. John. She added:
"I adored him. We all adored him. There was something unique and magical about him. He would just draw you into his wonderful world. And all of his bear hugs, I can't believe I'll never get a bear hug."
It was hard for her to be on set because she still had scenes to shoot but tried her best to "remain stoic" while at work. The interviewed can be viewed here.
She loved being in his company and joked that she always looked him at parties because she "wants to be with him, be in his air space."
Scott said his colleague could sense what a nice person he was, saying he was adored by many and "a pleasure to be around.
After his death, Scott released a statement saying his friends, family, and colleagues will "desperately miss [their] dear friend Kristoff."
Scott, who landed the role of Nikki Newman back in 1981, said "The Young and the Restless" paid tribute St. John by released a short behind-the-scenes collage of his time on the set.
St. John, a two-time Emmy Award winner, had been portraying his character Neil Winters for the past 28 years, a character loved by many.
He was found dead earlier this month, at his home in the San Fernando Valley. An investigation is underway, and the autopsy results are still pending.
Soon after his death, St. John's ex-wife Mia St. John, told reporters he had been texting her hours before he died, and the "sounded depressed" and drunk.
He was "saying nonsense" and at one point during the conversation thought their son was at his door. Their son, Julian, died in 2015.
Mia does not doubt that St. John's mental problems caused his death, claiming that he never truly got over Julian's death.
Officers were dispatched to St. John's house, but it was already too late. They found him on the floor and tried to perform CPR, but they were unable to revive him.
St. John was laid to rest next to Julian at the Valley Oaks Memorial Park in Westlake Village, California.
Please fill in your e-mail so we can share with you our top stories!