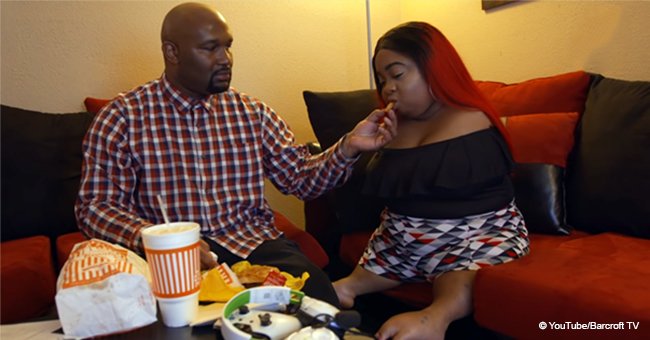 Texas woman born with no knees and arms reveals she's planning her dream wedding

Jlissa Austin, a 30-year-old woman from Texas, was scared of ending but alone. However, she is living her best life and planning her dream wedding.
She stands just three feet four inches tall, has no arms on knees, and only seven toes. According to Austin, her disability does not affect her love life.
Austin is also the proud business owner of a weave company and has taught herself how to do most things with her toes, from brushing her teeth to typing messages.
Jonathan, her able-bodied husband-to-be, stands five foot six inches tall, and Austin says they are "very good together."
The couple also shares an apartment in Houston have been dating for 13 years. They can't wait to spend the rest of their lives together, and Austin says they are very "in tune." She explains:
"When people see us walking around together, some of them shake Johnathan's hand and say 'I salute you, you're doing a good job.' But we don't experience issues with people judging our relationship too much thankfully. We're both really looking forward to our wedding, now."
They were introduced by mutual friends back in 2006 and became good friends almost immediately, and then "just grew to love each other."
Jonathan helps Austin to eat, to get in and out of a vehicle, and to assist with things which are out of her reach. He says about her condition:
"It's never mattered to me that she has no arms or no hands, or that she's small and her condition has never affected our love life. I just love her as a regular person and treat her like that."
Austin has never been diagnosed and said she probably won't ever be diagnosed now. When she was born, the doctors just explained to her mother that she'd have stunted growth.
The doctors also believed Austin would not live to see her 18th birthday, and for that, she only has the following to say:
"Here I am now, 30 years old and able to do so many things."
Her condition appears to be similar in many ways to a 26-year-old Zimbabwean woman named Sinikiwe Kademunga. She too was born with no arms or knees.
Growing up in Zimbabwe, Kademunga had to overcome many cultural, social and economic barriers but is determined to live life to the fullest.
Readers interested in her journey may follow her blog site, aptly titled "Life in the shoes of a short girl." Her blog serves as an inspiration to many Africans.
Please fill in your e-mail so we can share with you our top stories!