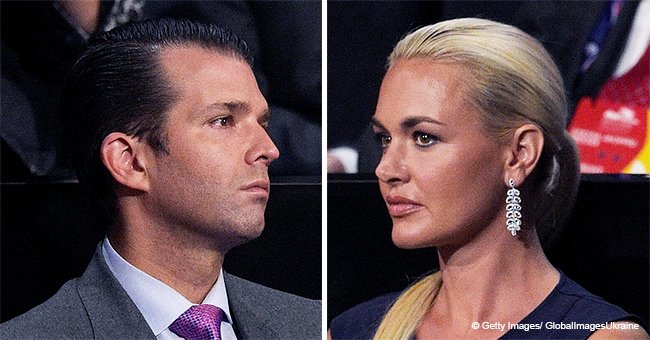 Donald Trump Jr Finalizes Divorce from Wife Vanessa after 13 Years of Marriage

On February 22 Vanessa and Donald Trump Jr. announced in a joint statement they are officially divorced.
During the couple's marriage of just over thirteen years, they had five children and said divorce proceedings got finalized "at the end of last year."
Donald Jr. and Vanessa maintained a cordial relationship through proceedings and added that their "kids and their happiness will always be our first priority."
Vanessa filed for divorce in March 2018, but what started as uncontested switched to a contested divorce in July 2018. Which issues they suddenly disagreed upon remains unclear as the details of the divorce proceedings are sealed.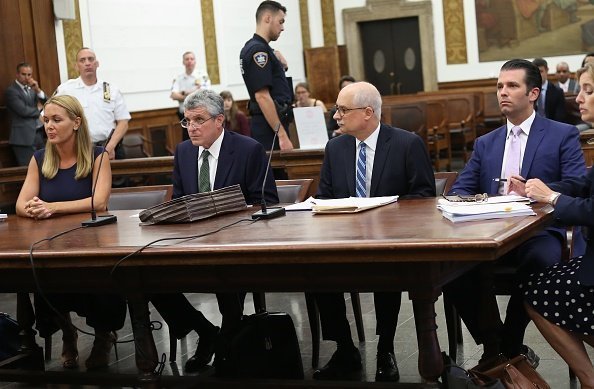 Donald Trump, Jr. and Vanessa Haydon Trump appear in Civil Supreme Court on July 26, 2018, in New York City.| Photo: Getty Images.
Donald Jr. or "Don" as the eldest child of Donald Trump is known, is the Trump Organization's executive vice president of development and acquisitions, along with his brother Eric. He also acted with great concern when Vanessa recently received a suspicious letter.
On February 12 Vanessa opened the letter in her Manhattan apartment at 10 am, but since deemed a nonhazardous substance by the New York Police Department. Later in the day, Trump tweeted:
"Thankful that Vanessa & my children are safe and unharmed after the incredibly scary situation that occurred this morning. Truly disgusting that certain individuals choose to express their opposing views with such disturbing behavior."
The 41-year-old son of President Trump, reportedly worth over $150 million became entangled in the scandal over Russian interference in the 2016 election. Being close to his dad, he'd also become more vocal publically.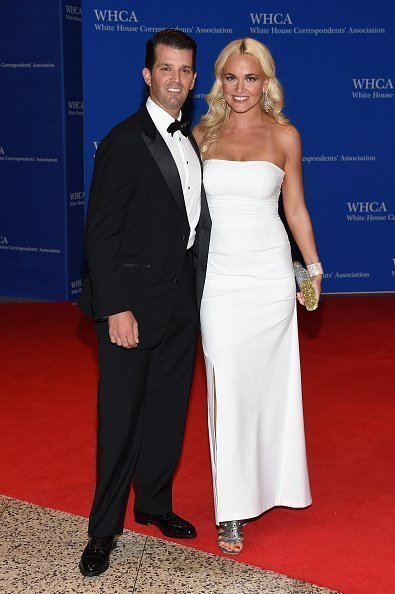 Donald Trump Jr. and Vanessa Trump attend the 102nd White House Correspondents' Association Dinner on April 30, 2016 in Washington, DC.| Photo: Getty Images.
It is also his father who introduced him and Vanessa. Donald Trump Jr. and Sr. attended a fashion show which Vanessa was part of as being signed up as a model with Wilhelmina Models at the time.
Donald Sr dragged Don backstage and introduced the two in what followed to be "a brief, awkward conversation," according to the New York Times.
But an embarrassing moment followed during a later break in the show when Donald Sr. spotted Vanessa again. He forgot that he had introduced her to his son earlier, and promptly went ahead to do it a second time.
The New York-born former model married Don on November 15, 2005, in a self-designed wedding gown in Palm Beach at Trump's Mar-a-Lago Golf Club.
Vanessa and Don had five children together, the youngest being the little three-year-old Chloe Sophia, then Spencer who is five years old followed by six-year-old Tristan Milos. Donald Trump III is eight years old while the eldest is ten-year-old Kai Madison.
The Manhattan Supreme Court Judge who presided over Vanessa and Don's case praised the couple for thinking of their children first during their divorce proceedings and commented on Friday:
"I very much would like to commend both of you for working out whatever differences you may have had regarding those issues and committing to co-parenting with each other," Katz said at the time. "You have prioritized your children and taken steps to shield them from what could have been an invasive litigation process. Not everyone is able to do that."
As part of the settlement, Vanessa and Don signed confidentiality agreements on divorce proceedings and cannot divulge any details.
Meanwhile, in a related story, Don was quick to defend his father after the Trump-Baldwin feud recently escalated.
Please fill in your e-mail so we can share with you our top stories!