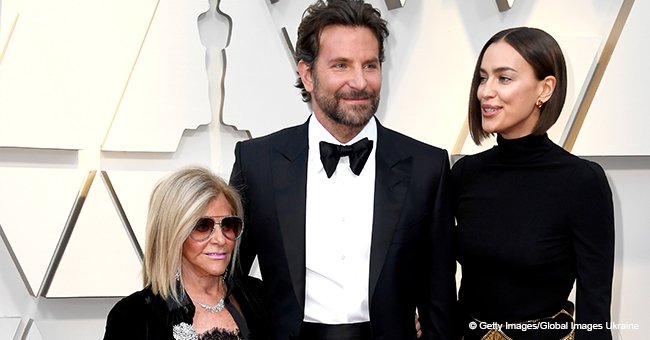 Bradley Cooper Makes a Rare Appearance with His Mom by Taking Her as His Date to the 2019 Oscars

Oscar night for Bradley Cooper was all about his nominated film about an inspiring woman and fittingly attended the ceremony with two inspiring women in his life.
The 44-year-old actor arrived at the Oscars on Sunday with his beautiful partner Irina Shayk on one arm, and his mother Gloria Campano on the other.
During the evening, Bradley performed the song, "Shallow" alongside costar Lady Gaga, while the film, "A Star is Born" hoped to snag some more awards.
Bradley looked handsome in a black tuxedo while Irina looked stunning in a black figure-hugging, long-sleeved Burberry dress. Mum Gloria also stuck with black in a lacy black dress and a black velvet coat.
While on the red carpet, Bradley shared with ET that he was not the only nervous one and said:
"They're all right here. My mom's here, Irina's here. My mother's a wreck. She's so nervous."
Despite praises over Bradley's directional debut, a nomination in the Best Director category remained elusive. The film, "A Star is Born" lost Best Picture Award to Green Book, and Bradley missed out on Best Actor to Rami Malek in "Bohemian Rhapsody." Lady Gaga's fate was the same when she lost Best Actress to Olivia Coleman.
Julia Roberts, who presented the final award of Best Picture for the evening, closed the ceremony off with an adorable shout out and said:
"Well, apparently, that wraps up the 91st Academy Awards. I would like to say congratulations to all the nominees, and good night to Bradley Cooper's mother and my children, and thank you for watching."
At least his first film "A Star is Born" snagged Best Original Song, and Bradley got to attend the event with his mother and partner by his side. First sparks of dating rumors between Irina and Bradley go back to 2015, but keep their relationship private.
As Bradley's film, "A Star is Born" raked in many nominations they couple got spotted on the red carpet together often as Irina supported Bradley in his newest accomplishment.
At the beginning of the year, the couple attended the Golden Globes where Bradley swopped his black tux for a white one and Irina looked terrific in a sheer dress.
The National Board of Reviews Awards Gala in New York City followed only days later where the two wore matching outfits. The couple then jetted off to London early February for the BAFTA Awards and on Sunday the Oscars.
A moment during the Oscars quickly becoming one of the most talked about, is Bradley Cooper and Lady Gaga's performance of the song "Shallow." The chemistry and sensuality sizzled as the two performed the song from their movie, "A Star is Born" on stage.
Please fill in your e-mail so we can share with you our top stories!