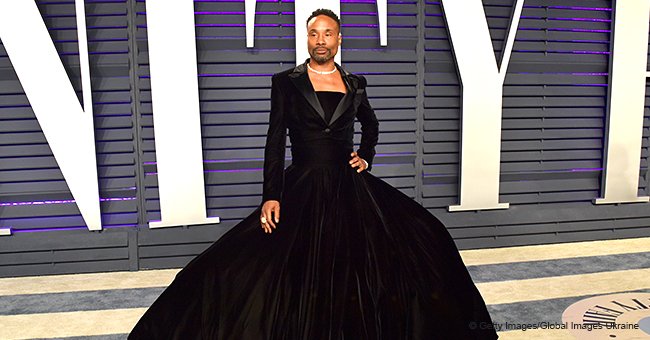 Pose' Actor Billy Porter Stuns the Crowd in Exquisite Tuxedo Gown on the 2019 Oscars Red Carpet

Billy Porter broke stereotypes at this year's Academy Awards, sporting a stunning velvet tuxedo ballgown made by designer Christian Siriano.
The "Pose" actor showed up to the Oscars wearing something unconventional, stunning the crowd. He walked through the Oscars red carpet wearing a tuxedo gown with frilly sleeves. He was definitely one of the best dressed that night, carrying his look with so much class and elegance.
Aside from his gown, another thing that easily caught the eyes of Oscar viewers was the stunning diamond ring he wore on his finger. The 20-carat Oscar Heyman creation is valued at a whopping $900,000.
During an interview with Vogue about the first time he fit the gown, the actor said that he felt so free in it.
"I felt alive, I left free, and open, and radiant, and beautiful!"
The public received his look in such a positive way, praising him for his confidence and bravery to break stereotypes and become a trendsetter.
This year's Academy Awards is quite interesting for many due to the new players in the scene. One new player is Bradley Cooper, who had his directorial debut with "A Star Is Born." His film received great reviews from viewers and critics alike, even bagging eight nominations in the awards show.
However, while it seems to be a crowd favorite based on its eight nominations, he failed to be included in this year's "Best Director" category, which he reveals had him embarrassed. While speaking to Oprah, he said:
"I was embarrassed because I felt I hadn't done my job."
Although he didn't get a Best Director nomination, he was nominated for three other awards, namely Best Actor, Best Adapted Screenplay, and Best Picture, the last two being shared nominations.
At the recently concluded Golden Globe Awards, "A Star Is Born" went home with one award for "Best Original Song." At the Critics Choice Awards, they bagged two awards, one for "Best Original Song" and one for Lady Gaga, who bagged a "Best Actress" award.
Cooper revealed that he felt awful directing a film that grossed $400 million worldwide on a $36 million budget and not get nominated for "Best Director."
Please fill in your e-mail so we can share with you our top stories!