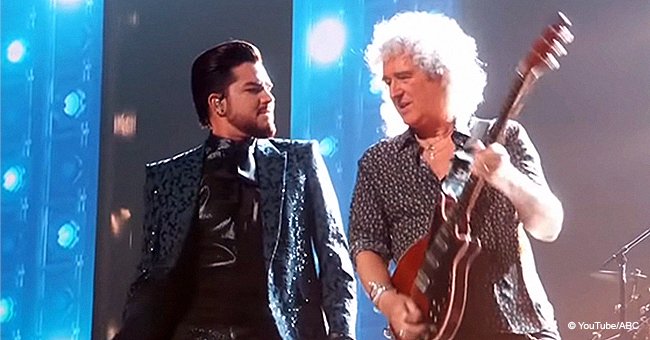 Adam Lambert and Queen Earn Standing Ovations for Their Magnificent Performance at the Oscars

Adam Lambert joined the legendary band Queen to pay tribute to the amazing "Bohemian Rhapsody" at the Oscars.
Queen fans were blown away at the 91st Academy Awards. The band took the stage with Adam Lambert to honor Best Picture nominee "Bohemian Rhapsody."
The star of the movie, Rami Malek bagged the Best Actor trophy. He portrayed the late singer Freddie Mercury in the film.
Queen and Lambert opened their tribute with a crowd-rousing rendition of "We Will Rock You." The amazing performance brought the stars to their feet.
Even Glenn Close, Javier Bardem, and Lady Gaga were spotted clapping and singing along in the audience. The performers then transitioned into "We Are the Champions."
Weeks earlier, The Academy announced the performance on twitter saying,
"Is this the real life? Is this just fantasy? We welcome @QueenWillRock and @adamlambert to this year's #Oscars!"
The electric performance ended with a standing ovation from the audience. The long-awaited performance clearly lived up to the expectations of fans.
The former American Idol runner-up collaborated with Queen as their lead vocalist since 2011. Their combination gave rise to the successful world tour from 2014 to 2018.
In September, Lambert revealed to PEOPLE that he was "really nervous" about filling in for Mercury with the band. He went on to say he felt like a guest.
"Not only did I have to make sure my voice held up and I know all the words… but it was also the perception of fans; I definitely had some concerns," said Lambert. "This is not my music that I wrote: This is me, as a guest, with one of the greatest rock bands of all time, singing the songs that one of the greatest rock singers of all time brought to life." Lambert added, "Freddie is irreplaceable. There's no way to compare to him. It was always my hope that audiences would understand that I'm up there just excited to sing great music that everyone knows."
Lambert made a cameo role in "Bohemian Rhapsody." The film centers around Mercury's rise to fame with his band Queen as well as his death from complications of AIDS in 1991.
Rami Malek bagged the Best Actor award at the Oscars. However, just after receiving his award, he tumbled off stage in a scary fall.
Please fill in your e-mail so we can share with you our top stories!