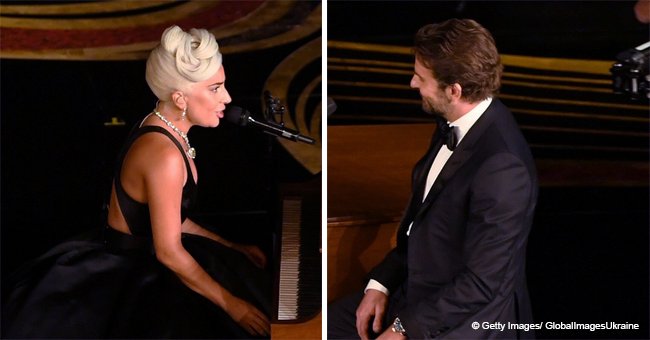 Lady Gaga and Bradley Cooper's Sensual Performance Was Staged: Body Language Expert

Bradley Cooper and Lady Gaga's sensual performance of their hit song, "Shallow" during the Oscars all got staged according to body language experts.
The chemistry between Lady Gaga and Bradley Cooper unmistakable as they performed the hit single from the film "A Star is Born" at the Oscars on Sunday.
According to body language expert Judi James, the pair "went into on-screen role mode" when they got on stage to perform their Oscar Award-winning song and told The Sun:
"Perhaps Bradley and Gaga were just too good at their craft though because instead of using some over-congruent body language to suit the size of the stage and venue they appeared to opt for small-screen subtlety for the close-up camera instead and it was this intensity that ensured their stunning Oscar 'moment.'"
The close-up shots towards the end of the song make all the difference; it gave a visual rendering of the depth of the song just by looking at the passion between the pair. One fan on Twitter thought their performance full of chemistry and wrote:
However, like so many other acts the pair rehearsed their performance beforehand and Judi James that the same went for the passion between them on display at the Oscars for all to see. With Bradley's girlfriend Irina sitting in the audience, it is highly unlikely that he would advertise any real feelings for the whole world to see right in front of her.
The body language expert noted on Bradley's body positioning while interacting with Lady Gaga and added:
"If you look at Bradley's hand and pelvic positioning during hugs and embraces with Gaga he seems to border well on the side of being a true gentleman, with no clutching touches or pelvic closeness."
For one Twitter user the pair's performance was magical:
One celeb is not convinced that their act was all "rehearsed" as Spice Girl Mel B spoke with Piers Morgan on "Good Morning Britain."
Mel B covered her eyes, "I felt so uncomfortable, for Bradley's girlfriend (Irina Shayk)," she said as Piers asked her if she thought it was the look of love. "It really was," Mel B simply replied. The Spice Girl thinks that Lady Gaga crossed "a few lines" in the way she stared at Bradley during their performance and added:
"I would like to think that that was just part of the reenactment of the song because there's a women's code.."
Another fan of the performance agreed with Mel B that their performance sizzled way past the platonic "rehearsed passion" as she wrote:
However, Bradley appears smitten with his partner of the last few years, Irina Shayk and the couple even welcomed their first little one in March 2017.
Lady Gaga on the other hand recently turned single after she broke up with former fiance Christian Carino, who she dated since 2017. Fans knew something was amiss when Lady Gaga and Christian didn't appear at the Grammy Awards held on February 10 together.
Please fill in your e-mail so we can share with you our top stories!