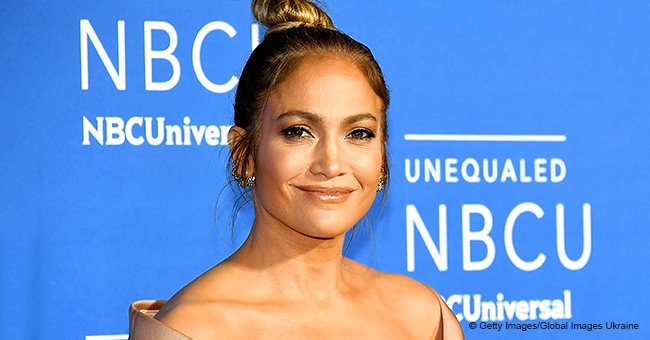 Jennifer Lopez Shows off Her Twins' Impressive Singing Skills in Heartwarming Birthday Tributes

Jennifer Lopez's twins, Emme and Max, proved that they are just as talented as their famous mom.
Devoted mom Jennifer Lopez proudly shared videos of her cute twins, Emme and Max, on Instagram. It was the twin's birthday on February 22, and they showed off their singing talents for all to see.
"Happy birthday my perfect marshmallow coconut princess Momma is so proud of you!! #foreverlove #emmemaribel #11 2/22 12:21 #twoismyluckynumber #twins.Happy Birthday my lil beautiful coconut brilliant boy. Mommy is so proud of you!!! #foreverlove #maximiliandavid #11 2/22 12:22 #twoismyluckynumber #twins."
CELEBRATING THEIR BIRTHDAYS WITH A SONG
Lopez posted a clip of Max belting out "The Faith Song" from "The Amazing World Of Gumball" in a surprisingly good voice for his age.
The clip also included a photo montage of Max, from earliest infancy to the strapping boy he has become.
Alex Rodriguez has revealed that his two daughters, Natasha, 14, and Elle, 10, are great admirers of Lopez and are set to follow in her footsteps
JENNIFER LOPEZ'S BIRTHDAY GIRL
Emme also sang for her birthday cake, but she chose the incredible song from "Moana," "How Far I'll Go."
Emme also merited a photo montage, and the end of her clip shows her singing Karaoke with her friends at the party, and doing a creditable job.
ALEX RODRIGUEZ'S GIRLS ALSO WANT TO SING LIKE LOPEZ
Alex Rodriguez has revealed that his two daughters, Natasha, 14, and Elle, 10, are great admirers of Lopez and are set to follow in her footsteps:
"My girls adore Jennifer. She's a great role model and they want to do exactly what Jennifer does. They want to sing, they want t, o dance, they want to produce, they want to direct. (...) I'm the luckiest father in the world to be able to expose my beautiful daughters to someone as brilliant as Jennifer."
A MATCH MADE IN HEAVEN
The Rodriguez-Lopez love match has had fans sighing since 2017. The loved-up couple often shares their love messages to each other on social media, and make no secret of their mutual devotion.
From the beginning of their relationship, the two celebrities have made a point of including their children in their relationship, and the family of 6 is often seen together on outings.
EMME IS A CHIP OFF THE OLD LOPEZ BLOCK
Jennifer Lopez had previously posted photos and videos of her daughter Emme on her Instagram, and they show she is growing into a beautiful girl.
Emme looks exactly as we would have imagined Lopez did at that age, with a mop of wild brown hair, and a delicate face.
Lopez shares her twins Emme and Max with salsa singer Marc Anthony to whom she was married from 2004 to 2014.
In a related story, Jennifer Lopez fell during a recent concert but handled the incident like the true professional she is.
Please fill in your e-mail so we can share with you our top stories!