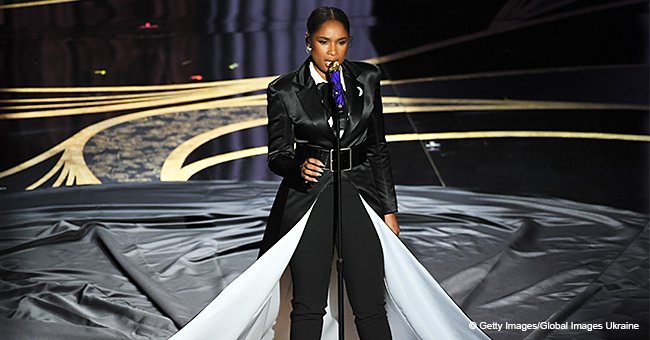 Jennifer Hudson Gets Slammed for 'Awful' Oscars Performance of 'RBG' Song 'I'll Fight'
Jennifer Hudson disappoints fans who described her recent Oscar performance as "awful" and "flat."
Jennifer Hudson received mixed reviews for her recent Oscar performance. Taking the stage to sing "RBG"'s Best Song nominee "I'll Fight," the singer's often powerful presence was overshadowed by what appeared to be a relatively flat and pitchy performance.
Hudson wore a sharp suit as she rendered her version of the moving song. While songwriter Diane Warren was pleased with her performance, many on Twitter felt something was off.
"Jennifer hit a bad note! Not like her…she must have a cold," one commenter wrote believing there must be a valid reason why the singer would deliver an unsatisfactory performance.
Others simply described it as "awful" and expressed confusion.
"Ohh no Jennifer Hudson that's was awful #Oscars I love her voice, idk what happened"
"What is going on with this Jennifer Hudson performance?! I can't work it out, but something is wrong. Was she really flat, or was the orchestra out of time with the vocals?"
There were also those who chose to blame technical matters for Jennifer's seemingly faulty rendition. This includes Perez Hilton who wrote,
"Is it just me or does Jennifer Hudson's mic sound a bit muzzled? Her vocal could be clearer!!"
Whether it's a technical issue or the case of the cold or nerves (but that's highly unlikely for the Oscar winner), Hudson's vocals were questionable in people's minds. However, what was no doubt, a perfectly sound performance was Lady Gaga's duet with Bradley Cooper which brought the house down that night.
The pair who sang Best Song nominee "Shallow," for their film "A Star is Born" gave an intimate and powerful performance which was later validated by the song's win. Gaga was in tears accepting her award and Hudson showed support by nodding her head in encouragement during the singer's acceptance speech.
Gaga, who co-wrote the song with Mark Ronson, Anthony Rossomando, and Andrew Wyatt told the audience,
"It's not about winning, but it's about not giving up."
Jennifer couldn't agree with her more and mouthed a "yes" from the audience.
This is Gaga's first Oscar win. She was also nominated for Best Actress but lost to Olivia Colman of "The Favourite." Meanwhile, Jennifer already bagged an Academy Award as Best Supporting Actress for the 2006 film, "Dreamgirls."
Please fill in your e-mail so we can share with you our top stories!