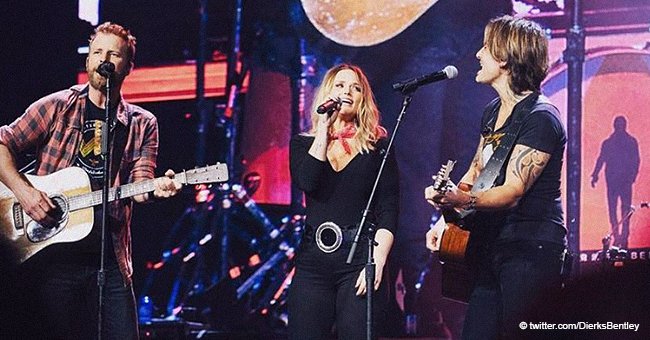 Miranda Lambert Surprised the Crowd on Her First Public Outing after Revealing Secret Marriage
Miranda Lambert marks first performance since her marriage to Brendan McLoughlin with a breathtaking performance in front of fans at a Dierks Bentley concert in Nashville.
The whole world was left in shock in the wave of Valentine's Day when Miranda via a post on her Instagram handle revealed she and Brendan McLoughlin got married in a secret marriage.
Following her marriage which caused the revealing of many details regarding the past love life of her 27-year-old husband, Miranda has since not had a public performance until February 22.
Her performance was in the company of Bentley who also brought with him country star Keith Urban as a last minute addition to the entertainers on the night. His introduction of Lambert to the crowd caused an audacious applauses from the fans waiting to be thrilled by her lovely voice.
The trio performed a quartet of country classics which include "Your Cheatin' Heart" by Hank Williams; Merle Haggard's "The Bottle Let Me Down" and "Blue Kentucky Girl" by Loretta Lynn.
Dixie Chicks' girl song "Cowboy Take Me Away" was the last song sang by the trio. Lambert started the song and she was happily joined by the men. She interjected, "I love it when boys sing girl songs."
Bentley posted a lovely photo of his performance on stage with the duo on his Instagram handle with much details about the fun-filled night.
"What can I say about these two and this moment here tonight at Bridgestone Arena, other than it's just good to have pals. Someone like @keithurban, who I sent a text to two days ago that literally started with "I hate myself for even texting this, so please just say no, but I'm playing Bridgestone tomorrow night....."
Bentley said about his friends and Urban who came aboard days before the show.
He continued by showing appreciation to the newlywed Lambert while also talking about the frenzied atmosphere they bad before coming on stage:
"And @mirandalambert, who who I randomly bumped into yesterday in nashville, who asked about the show and said she and her husband were thinking about coming down. A lot of laughs in the dressing room 20 minutes before my band and I walked on stage, working something up. The best. Heart full of grateful for everyone that made tonight the night that it was, but these two are at the top..."
Lambert had her finger decorated by her wedding ring which she gladly showed off to the crowd.
More news about her relationship with Brendan has not ceased to come out. One of them being the circumstances that surround their first meeting. PEOPLE reports that the pair first met on November 2 when Lambert performed in a concert held in NYC. Dutiful Brendan was on crowd control duty on the night. The couple met and the rest is history.
Please fill in your e-mail so we can share with you our top stories!