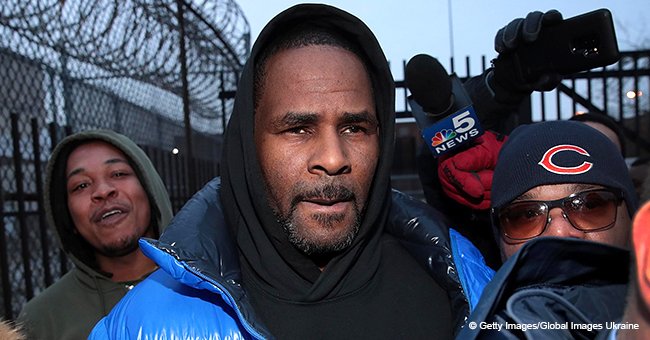 R. Kelly Released from Jail in Chicago after Finally Posting $100,000 Bond
R. Kelly is released from jail after he was finally able to pay the $100,000 bail that the court asked of him. However, if he wants to stay a free man, he'll need to shell out another 6-figure amount on pending child support payments.
The famous R&B singer needed to pay for 10% of his total bail which amounts to $1 million. He was finally able to post it on Monday and was swarmed by reporters and paparazzi as soon as he stepped out of the facility. Dressed in a black hoodie, sweats, and a blue down jacket, he was accompanied outside by his lawyer and another male companion, paying no attention to the swarm of reporters trying to get a statement out of him.
Kelly pled not guilty to all 10 counts of aggravated sexual abuse on four victims, three of which were minors during the time of the attack. He was previously charged $250,000 bail for each victim and was not able to pay the 10% required to be freed right away due to alleged financial difficulties.
His attorney, Steve Greenberg, told reporters that after the bail hearing, the singer actually felt "very happy" with the bond, as it seemed "fair and reasonable given the allegations." At this point, Kelly and his camp are fully cooperating with the cops in hopes of trying to clear his name. However, the attorney also claimed that his client "really doesn't have any money at this point" because of his mismanagement of funds and some bad deals he's made in the past.
R. Kelly's financial woes aren't only for this case, as his ex-wife previously revealed that he hasn't paid child support since June 2018.
"Even now, financially I am being abused. He stopped paying child support as of June. When I came out and told my story, that was the last time he paid support. Because again, you can't abuse me physically, you can't abuse me emotionally, so you abuse me financially."
After the court found out about this, he may face jail time again if he does not agree to pay for the $160,000 child support fees he was meant to give his children in the past couple of months by March 6.
For now, R. Kelly is free and is set to face the court again in his nearing court hearing. By then, he will have to face the current charges he's facing, with some added proof from attorney Michael Avenatti that shows a new tape of Kelly having sexual intercourse with a minor, who is the same girl from the other footage. The tapes have now been turned over to Cook County prosecutors, which will then use this in his court case.
Please fill in your e-mail so we can share with you our top stories!