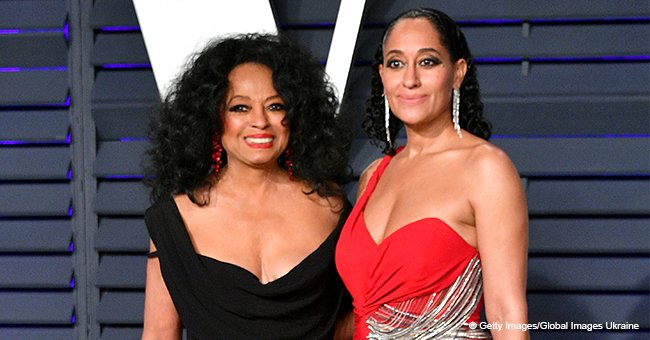 Diana Ross & Daughter Tracee Radiate Elegance in Fitted Dresses as They Pose at Vanity Fair Party

The Vanity Fair Oscar party was a family affair for Diana Ross and her children, who all showed up to the prestigious event looking elegant as can be.
Diana Ross showed up to the red carpet of this year's Vanity Fair Oscar Party with her kids, Evan Ross, his wife Ashlee Simpson, and Tracee Ellis Ross. They were a sight to see that night, oozing with confidence and elegance as they posed for some photos.
While Ashlee, 34, and Evan, 30, coordinated their black embellished outfits, the 74-year-old icon and her 46-year-old daughter Tracee looked stunning in their elegant gowns. In a series of photos posted by Tracee, she and her mom partied the night away looking like absolute twins. Their similar facial structures and hairstyles made it clear that the model took after her mom.
It's not just her looks that Tracee got from her mom, however, but even her singing talent. Just like her legendary mom, Tracee has a knack for singing. However, she chose not to pursue the same track that her mom did, and instead went into acting and modeling.
This doesn't mean the two haven't had a fair share of singing together, as back in 2015, Diana called her daughter on stage to sing Billie Holiday's "Lady Sings The Blues" with her.
Although Ellis Ross was shocked and nervous to have been called on stage, she eventually sang the song flawlessly, stunning the audience that such talent really runs in their family.
After their performance, Tracee hugged her mom before heading down the stage and revealed that the last time Diana asked her to sing, she was about five or six years old.
The mother-and-daughter duo has such a close relationship with one another, that it's easy for them to hang out as if they were friends. In fact, the whole Ross family makes sure to get together often, proving that despite each family member having successful careers, it is still possible for them to make the most out of family time and experience great memories together.
Please fill in your e-mail so we can share with you our top stories!