Diana Ross' powerful duet with daughter Tracee Ellis Ross gets hearts pumping
The daughter of Diana Ross, Tracee Ellis Ross, was surprised by her own mother during one of her concerts in Las Vegas in 2015.
In the middle of Diana's presentation, she took her time to ask Tracee to get onstage so that she could sing Billie Holliday's "Lady Sings The Blues." Diana didn't care that Tracee chose to be an actress instead of a singer and called her up.
The recordings of the night showed Tracee wearing a short black dress with many green and white details, while her mother opted for a beautiful, shiny, yellow dress that made her look gorgeous.
Once she was next to Diana, she was clearly nervous as she didn't expect to get onstage. After taking her time, she sang the previously mentioned song almost flawlessly, surprising the audience.
A LONG TIME SINCE THEY SANG TOGETHER
At the end of her short performance, she hugged her mother in what was labeled as the most adorable moment of the entire concert. For the caption of one of the videos that Tracee uploaded, she confessed that the last time Diana asked her to sing was when she was five or six years old.
Apart from that, Tracee said that she thought Diana was calling Evan Ross, Tracee's singer brother, but the living legend was asking her daughter to join her. Tracee published the rest of the story on her website.
GETTING NERVOUS
"I still get nervous all the time but I never let it stop me and I'm certainly not afraid of performing. But, somehow, by the time I stepped onto the stage it was as if I was 6 years old again! There's something about singing… It's no joke trying to do that as the child of DIANA ROSS, let alone while standing by her side onstage," confessed Tracee.
One of the most remarkable aspects of that night was that Diana showed her support the entire time as she told the audience that Tracee could sing very well but that she wouldn't do it.
HIDING HERSELF
Tracee pointed out that her favorite part of the entire night was when she hid "so deeply" in her mother's arms, adding that it had been ages since she had done that.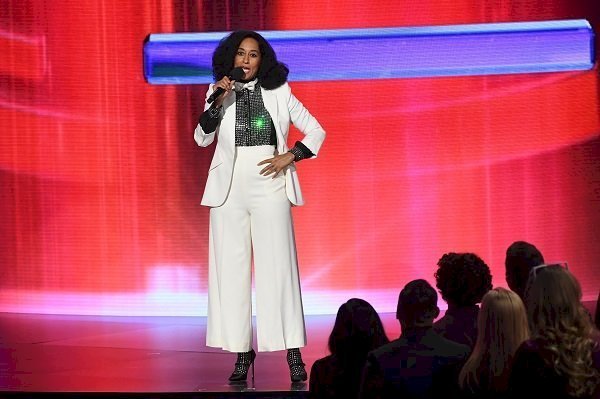 Diana and Tracee have a beautiful relationship, and the actress has done her best to prove it. Apart from uploading different photos on social media showing both of them doing various activities, she wore a piece of clothing her mother once did several years ago.
PAYING TRIBUTE TO DIANA
For the 2017 AMAs, Tracee was chosen to host the event. After wearing several different outfits, she put on a bejeweled top paired with white pants and jacket.
Later, she uploaded a slideshow portraying her mother and Michael Jackson at the AMAs in 1981. Diana was wearing the same top as Tracee allegedly found it in her garage and borrowed it.