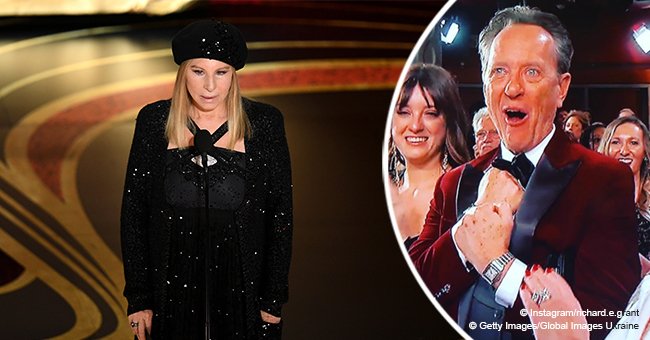 Barbra Streisand Receives a Standing Ovation at Oscars, and the Actors' Faces Are Priceless

Legendary actress steals the show at 2019 Oscars, and she had a diehard fan in the audience.
Award-winning singer, songwriter, actress, and director Barbra Streisand stole the show at the 2019 Oscars on Sunday when she was asked to introduce the best picture nominee 'BlacKkKlansman' directed by Spike Lee. During her speech which was quite moving, the actress spoke about what she loved about the movie.
"When I first saw BlacKkKlansman, I was stunned. I was very excited, and I was very moved. It had everything a great film should have. It was so real, so funny and yet to horrifying because it was based on the truth, and the truth is especially precious these days."
Barbra noted that although the movie was based on the social norms as regards to race in the United States as far back as the 70s, she believes that the movie is significant for this generation.
The actress also spoke of how she had enjoyed the movie so much that she posted about it on social media and how Spike Lee sent her a message appreciating the post.
Streisand made mention of the fact that she and the nominated director were raised in the same hometown; Brooklyn. This made Spike Lee stand to his feet in the crowd in acknowledgment.
After her speech, the legendary actress got a huge standing ovation to the surprise and awe of quite a lot of people. During the 'Streisand Oscars show' another person was the subject of attention. The crowd and everyone watching couldn't help but notice Richard E. Grants reaction as the actress made her way to the stage to do her introduction.
The British actor who is a long time fan of Barbra was seen beaming in excitement and his reaction has sparked comments from different people on social media.
Diana Pearl tweeted "how great to be the kind of person who just gets a standing ovation when you walk into a room a la Barbra Streisand #oscars."
Streisand was also honored at the 2019 Hollywood for Science Gala alongside Gisele Bundchen for her works in environmental related issues.
The actress appreciated the honor and spoke about her concerns for the health of the planet and future generations who will remain to face the challenges of climate change.
Please fill in your e-mail so we can share with you our top stories!