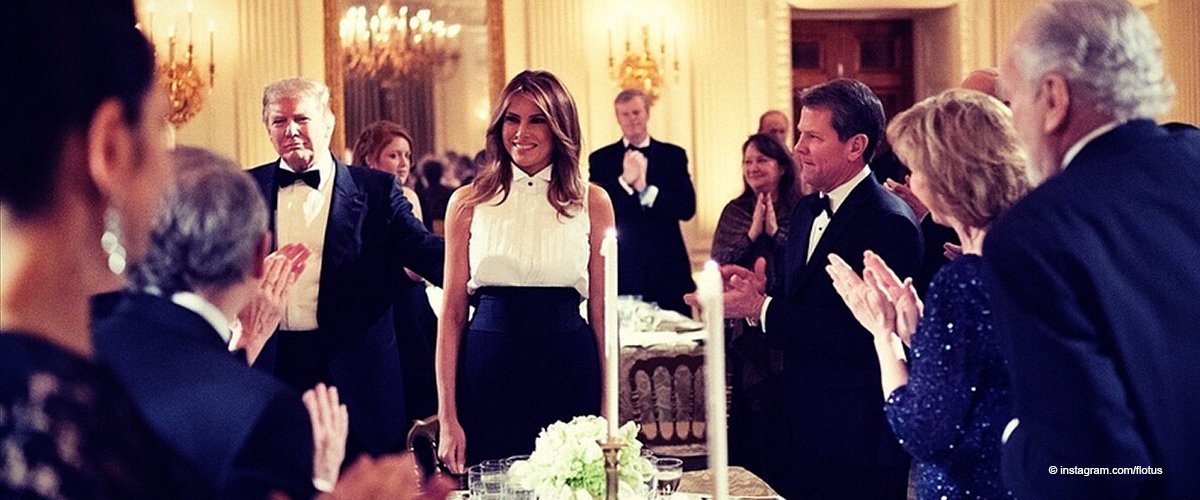 Melania Trump Draws Attention to Her Sleeveless White Top Matched with Flowing Black Pants
First Lady Melania Trump managed to draw some attention this Sunday when she wore an outfit that had her looking as stunning as ever. She and President Donald Trump were hosting the Governor's Ball at the White House.
For the occasion, the first lady wore a black and white look that complemented her husband's outfit.
Melania Trump, 48, looked incredible this past weekend at the Governor's Ball. She wore a sleeveless white cotton button-up collared shirt and black flowing pants for the event.
A large black waistband highlighted her figure. She wore her hair down in loose curls over her and only put on minimal makeup.
She joined President Donald Trump, 72, in the State Dining Room for the annual celebration. The occasion is a long-standing tradition that has been hosted to honor many of the nation's governors.
Donald wore a black suit with a white shirt and black bowtie to complement his wife's look. The president and first lady posed for numerous photos with some of them circulating on social media.
Towards the end of his speech, the president took a moment to thank the first lady for the event. According to the White House pool report, he said: "I want to thank our first lady for having done — this is such a beautiful job. Melania, thank you very much."
At last year's ball, Melania wore a black custom-made Dolce & Gabbana gown. The president and first lady met many years ago when the former was a just a businessman and the latter was a model.
The pair met in September 1998, as part of New York City's Fashion Week festivities. At the time, Melania Knauss was only 28-years-old.
She was attending a party at the Kit Kat Club in Times Square. Donald, then-52, was attracted to the model the brash and he was in the midst of divorcing his second wife, Marla Maples.
The couple eventually went on a date at the Greenwich Village nightclub, Moomba, and five years later they got married.
Please fill in your e-mail so we can share with you our top stories!