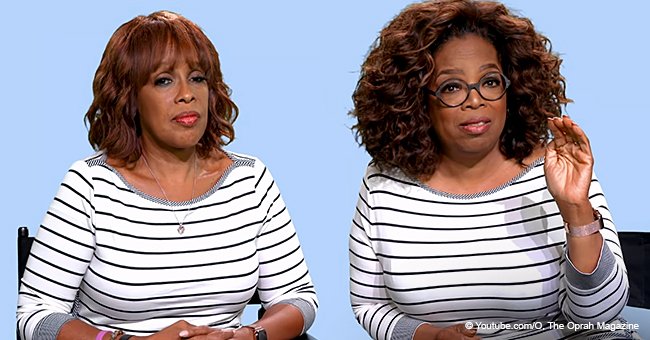 Gayle King Recalls the Devastating Moment She Found Husband in Bed with Her Friend

TV personality Gayle King, best known for co-hosting "CBS This Morning," revealed some details about the affair her now ex-husband had in 1990.
During a conversation with Oprah Winfrey at the OG Chronicles, a person asked both ladies if they like having the same friends or prefer to keep adding more to their circles.
King replied first and said that meeting new friends was hard. Winfrey quickly identified why she might have said so and pointed out that her friend might "be scarred" because of "that friend" who slept with her husband, William Bumpus.
KING AND BUMPUS' CHEATING SCANDAL
Winfrey added that when King found that so-called friend with Bumpus, she told her: "I thought you were my friend." Between laughs, King revealed that the lady responded to her: "I never liked you!"
It is not the first time that King has spoken about that particular incident, though. In a 2016 interview with Vanity Fair, the TV personality completed the Proust Questionnaire and responded to "which living person do you most despise?"
Even though King admitted that "despise" was a strong word, she admitted to not liking a woman she "caught naked with my now ex-husband on June 24, 1990, at 9:16 pm. But I don't remember the details," she joked.
King was asked to reveal the name of her infamous friend, but she only replied with: "she knows her name!"
BUMPUS' STATEMENT
Soon after that story came to light, Bumpus shared a statement saying that his "life-altering" choice has haunted him for a long time. Even though he has dealt with the situation privately, he publicly apologized for his act which "dramatically changed" their lives, added Bumpus in the statement.
"I have nothing but the utmost respect for Gayle and how she handled herself with grace. Despite the situation, she kept our children, as well as my relationship and involvement with them, as a clear priority," pointed out the man.
Bumpus and King tied the knot in 1982 but parted ways in 1993. They had two children together, William Jr. and Kirby, who are adults nowadays.
It is not the first time that the CBS anchor has made headlines recently, though. King was one of the celebrities invited to Duchess Meghan Markle's baby shower at the Mark hotel in Manhattan.
KING AT MEGHAN MARKLE'S BABY SHOWER
During a segment of "CBS This Morning," King revealed that Markle didn't open any of the gifts because she wanted to do so next to her husband, Prince Harry.
King also admitted that the baby shower guests made flower arrangements that were later donated to several charities.
Please fill in your e-mail so we can share with you our top stories!