Gayle King on Meghan's Baby Shower: Why Duchess Didn't Open Gifts & What Happened to the Flowers
Gayle King delighted Duchess Meghan's fans by dropping some clues about what went on at the baby shower.
Duchess Meghan is now 7 months pregnant, and in time-honored tradition, her friends threw her a baby shower, and it was quite a splendid one.
One of the lucky participants, Gayle King, gave fans a glimpse of the fun activities at the party which took place on February 20 at the five-star Mark Hotel penthouse in Manhattan.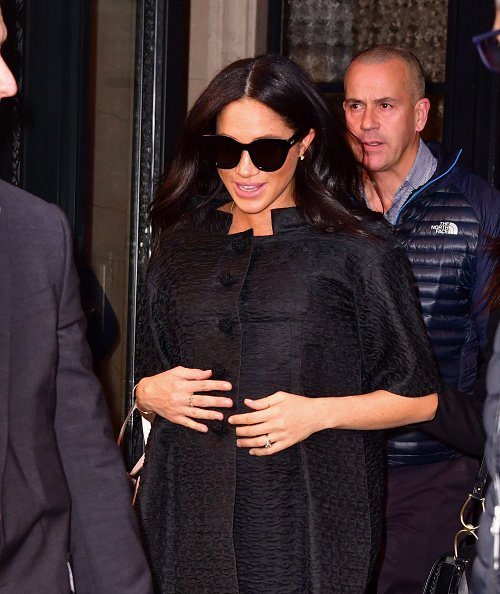 "A good time was had by all. That's what I'll say."
THE ROYAL BABY SHOWER IN NEW YORK
The baby shower was organized by Duchess Meghan's longtime friends Jessica Mulroney, Serena Williams, and her BFF, Genevieve Hillis.
The celebrity guest list included Amal Clooney, Abigail Spencer, and Gayle King - who dropped the dime on a few sweet details on "CBS This Morning". 
Meghan Markle's friends threw her a baby shower in New York's Upper East Side yesterday, with some big name guests in attendance, including Amal Clooney, Serena Williams and our very own @GayleKing!

It was Markle's first trip back to the U.S. since her marriage to Prince Harry. pic.twitter.com/LXA789zlX4

— CBS This Morning (@CBSThisMorning) February 21, 2019
King revealed that the celebrity guests at the Duchess' baby shower made flower arrangements
THE GIFTS FOR THE ROYAL BABY 
King refused to tell her fellow hosts what she had given the Royal baby, and she had a good reason. Duchess Meghan doesn't know.
"She didn't open any of the gifts because she wants to do that when she and Harry are back together. So I really don't know what everybody got. I think I got something I think is very nice."
The women throwing Meghan's baby shower are an international human rights barrister, one of the greatest tennis players of all time, and an expert stylist who co-founded the Shoebox Project. These women are are passionate and successful working mothers. Recognize. #MeghanMarkle

— Anne Boleyn (Sussex Supporter) (@TudorChick1501) February 20, 2019
COTTON CANDY, ANYONE?
It seems that the party organizer, Jennifer Zabinski, thought of everything, even catering to the pregnant Duchess' sweet tooth with a cotton candy machine and delicious cookies iced as baby rattles, storks and bibs.
The guests were serenaded by a harpist, and as King revealed, a good time was had by all.
ARRANGING FLOWERS FOR CHARITY
King revealed that the celebrity guests at the Duchess' baby shower made flower arrangements which were donated by @RepeatRoses to various charities.
Duchess Meghan flew back to London on a private jet after the party, presumably taking back the many presents to unwrap with Prince Harry.
Meghan didn't have to spend money. That's what real friends do. The jet was free from on of her or Harry's RICH friends. Small minded folk think small. No baby shower I ever went too or gave cost the expecting parents anything.

— Amelia Dukes Hutton (@HuttonDukes) February 22, 2019
THE DUCHESS OF SUSSEX WAS CRITICISED OVER COST OF BABY SHOWER
British media is an uproar over the baby shower thrown by the Duchess of Sussex's friends, which presumably cost $500,000.
The baby shower was paid for by Duchess Meghan's friends, as were all the expenses of her trip to New York.
Supporters of the Duchess pointed out that she is a millionairess in her own right;  she is not using taxpayers' money and can spend her own money as she wishes.
In a related story, Amal Clooney looked sensational in a gorgeous jumpsuit when arriving at Meghan's baby shower.