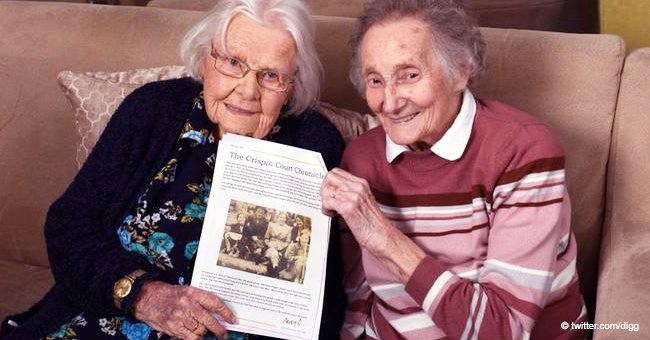 Childhood Best Friends Reunite in the Same Care Home after 70 Years Spent Apart
In what some may call coincidence, life brought two childhood friends back together after they lost touch 70 years ago.
When 89-year-old Eileen Gill arrived at the Crispin Court Care Home in Stafford in January, the last person she ever thought she'd see again was her childhood best friend, Nora Boardman now 98.
Nora only recently relocated to the Care Home herself after a few falls that made it difficult for her to look after herself and joined the care home last August.
Eileen and Nora grew up in Eccleshall, Staffordshire, West Midlands and were inseparable as children. But when Eileen was 12 years old, her family moved to a village called Brewood some 20 miles away, and the friends lost touch.
The way they felt about each other is the same way they did all those years ago.
When the pair first laid eyes on each other in the care home the recognition was instant, the 70 years they spent apart vanished in a split second as Nora said:
"I never thought I'd see Eileen again after we went our separate ways as children - so it was so nice to see her. I couldn't believe she was now going to be living in the same care home as me and we'd get to see each other every day. I feel lucky to have my best friend back in my life; it feels like nothing has changed."
Their lives took very different turns after school, as Eileen went to work on a farm and married the love of her love Ted, who passed away fourteen years ago after 49 years of marriage.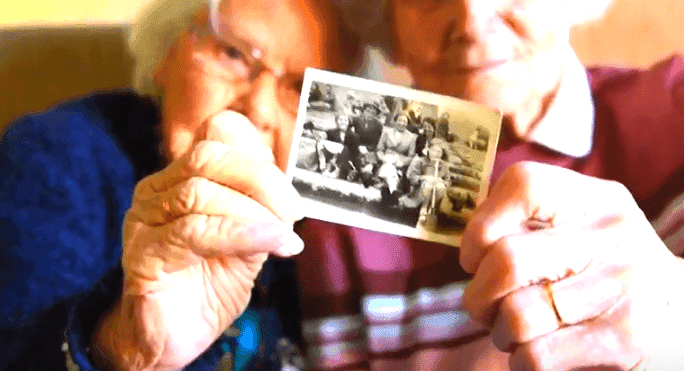 Eileen Gill and Nora Boardman share a picture of them as children.| Photo: YouTube/Caters Clips
Together they also had three children, a son, and two daughters. Eileen recalled her wedding day and
added
:
"The day I got married was the best day of my life - it honestly was. Ted was so good to me, and I miss him so terribly much."
For Nora things went into another direction entirely. Following school, she worked in the manufacturing of hand grenades. All though Nora didn't have any children, she did marry the love of her life as well. Nora was married to Bob for an impressive 55 years, but he sadly passed on four years ago.
Elated with their reunion the pair spend their days causing mischief at the care home while they catch up on days gone by in the evenings during dinner.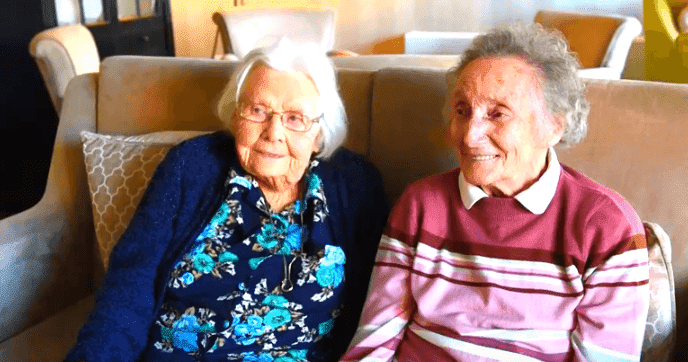 Eileen Gill and Nora Boardman.| Photo: YouTube/Caters Clips
This reunion also gave Nora something she didn't have. A family. Her longtime friend, Eileen's family, made her part of the fold as Nora
elaborated
:
"They have all been very nice to me - I feel like an extended part of their family. I couldn't feel happier that we're now reunited and get to reminisce on our old memories as well as creating new ones."
For Eileen and Nora, it's like those decades apart never existed in the connection and friendship they share. It is not knowing what the future brings that made them promise not to lose touch if it came to that. But for now, the reunited friends relish in the gift of being able to catch up and spend time together.
Many love connections coincidentally reunited in the same way. Diane Nerheim and Marvin Ugland dated in1964 while studying at the University of North Dakota, but their lives parted ways. Many years later Marvin escorted his own mother to Diane's mother' funeral.
The pair had not seen each other in 50 years but decided time was ticking and got married shortly after on a yacht in the San Francisco harbor on April 4, 2015. The way they felt about each other is the same way they did all those years ago.
We can share deep connections with animals as well, and at times they too find their way back to us. Bianca Zammit from Sydney had such an experience when her long lost pet returned to her after 14 years.
Please fill in your e-mail so we can share with you our top stories!