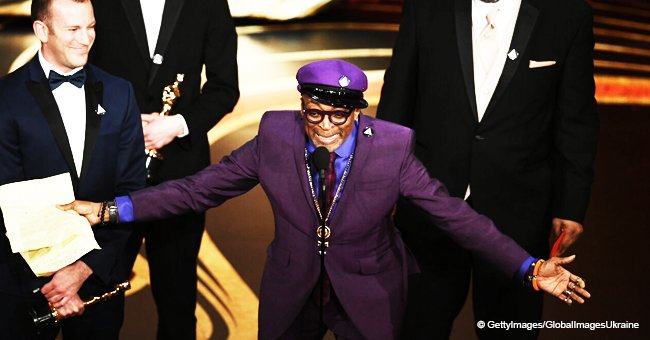 Spike Lee Mocks British Journalists When Asked about His Reaction to 'Green Book' Oscar Win
Spike Lee showed his feelings about the winner of the Oscar for Best Picture, "The Green Book."
After his historic win at the Oscars, Spike Lee took a swipe at his "BlacKkKlansman's" successful rival for Best Picture, "The Green Book."
Lee, 61, took home an Oscar for Best Adapted Screenplay but was far from satisfied with the outcome of the Academy Awards.
"Spike Lee was visibly angry when 'Green Book' was announced as the winner of best picture at the Oscars, waving his arms in disgust and appearing to try to storm out of the Dolby Theatre before he was stopped at the doors."
SOUR GRAPES AFTER A SWEET VICTORY
What should have been a sweet vindication after decades of work in the film industry seemed to be spoiled for the actor/director by Peter Farrelly's victory.
"Green Book" is a biographical comedy-drama about African-American jazz pianist Don Shirley and his relationship with his white driver.
The evening was a triumph for Spike Lee who took home his first competitive Oscar.
LASHING OUT AT "GREEN BOOK"
Lee obviously considers his own movie - also a biographical drama - telling the story of an African American policeman who infiltrates the Ku Klux Klan with the help of a Jewish surrogate, clearly superior. He went so far as to say to reporters:
"The ref made a bad call."
Lee had a similar reaction when he was questioned by two British journalists:
"Let me give you a British answer: It's not my cup of tea."
SPIKE LEE'S REACTION IN BAD FORM
Sadly, the highly respected director could not contain his chagrin at losing Best Picture and threw up his arms in disgust. Witnesses at the Dolby Theatre in Hollywood revealed that Lee attempted to storm out the building when "Green Book's" victory was announced.
A CRUSHING LOSS FOR SPIKE LEE
Lee compared his current defeat by Farrelly's "Green Book" to the 1990 Oscars.
At that time, his film "Do The Right Thing" lost the coveted statuette to "Driving Miss Daisy," starring Morgan Freeman and Jessica Tandy. He quipped wryly:
"Every time somebody is driving somebody, I lose!"
Nevertheless, the evening was a triumph for Spike Lee who took home his first competitive Oscar after decades of dedicated filmmaking.
SPIKE LEE WINS AN OSCAR AFTER DECADES OF MOVIE MAKING
Spike Lee has finally won an Academy Award. Film director, producer, writer, and actor, Lee has had a long and brilliant career in independent films, but the coveted Oscar never seemed to end up on his shelf.
His biographic drama "BlacKkKlansman," turned it around. After previous nominations for Best Original Screenplay for "Do the Right Thing" and Best Documentary for "4 Little Girls" failed to win the Awards, "BlacKkKlansman" finally gave him the victory he'd been craving.
In a related story, President Donald Trump accused Spike Lee of a 'Racist Hit' against him during his Oscars acceptance speech.
Please fill in your e-mail so we can share with you our top stories!