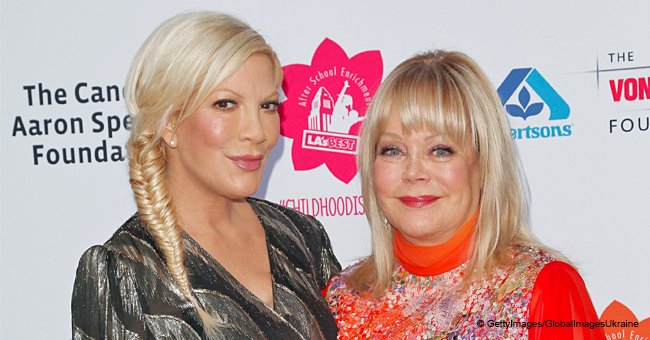 Tori Spelling's Mom Wants Her to Quit Having Children, According to Hollywood Life

At a recent red carpet event, Candy Spelling said she hoped her daughter Tori "quits having kids, already."
On February 24 the Beverly Wilshire Hotel served as the location of Byron Allen's Third Annual Entertainment Studios Oscar® Gala.
Candy Spelling attended the Gala which supported the Children's Hospital in Los Angeles and spoke with Hollywood Life on the red carpet.
45-year-old Tori Spelling had previously joked about having another baby and noted how much she preferred "even numbers" and liked "The Brady Bunch," and elaborated:
"So three boys, three girls would be ideal. But we're blessed, and you know, who knows?"
Even though grandmother Candy Spelling hopes her daughter Tori and 52-year-old husband Dean McDermott put the brakes on having more children; she adores Tori's five children and often buys them trinkets:
The youngest, Beau, is a year old while Finn is six. The two girls, Hattie and Stella, are now seven and ten years old respectively, while 11-year-old Liam is the oldest.
During Candy's talk with Hollywood Life, she gushed over her grandkids, saying:
"But they are so cute, and they are the best-behaved children. I am always so proud when I go out for dinner with them. We go out every Sunday night as a family."
The grandmother also spoke highly of Dean and Tori's parenting skills as she elaborated:
"I don't know how she has made it happen, but I think it's because she does a lot with them, and so does Dean. They are great parents, they are both very present all the time, and it's the consistency and presence that makes all the difference."
Tori and Dean both believe that their children chose them and previously admitted to not planning any of their prior pregnancies.
For Tori the worst thing about having five children is probably what others may describe as more enjoyable and relaxing as Tori said:
"We're both believers, none of our kids are actually planned. So we're believers that they choose us, and when the time is right, it's right. If not, we're definitely blessed. The only time I put my hands up and say, 'I can't cope' is when it's too quiet."
As Candy Spelling sung the praises of her daughter and the rest of the family during the talk on the red carpet it's notable the effort both Tori and Candy put in over recent times to mend their rocky relationship.
Tori Spelling was a self-proclaimed daddy's girl and devastated when the mogul Aaron Spelling died in 2006. The point which became an issue between Tori and mum Candy was the fact that Tori apparently inherited the total sum of $800,000 in 2014.
Aaron Spelling was worth an estimated $600 million, so the small amount duly caused friction between the two. But it reportedly was for good reason as Tori cannot help herself in a shop and "would close a store and drop $50,000 to 60,000."
Nevertheless, Tori has a lot to be grateful for as her relationship with mum Candy seem better than it's been in months along with the love of her five children and a husband.
About a month ago Candy joined Tori and the family for Sunday night dinner, and grandma turned out to be the "highlight" of the evening. It is good to see fences mending.
Please fill in your e-mail so we can share with you our top stories!