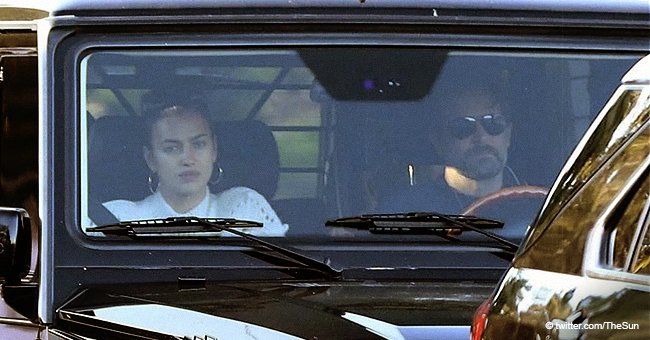 Bradley Cooper and Girlfriend Look Quite Sad after Ex-Wife Mocked Intimate 'Shallow' Performance

When Bradley Cooper and his gorgeous partner Irina Shayk got spotted out and about after the Oscars recently, matters seemed rather glum.
Irina had a front row seat to the much talked about performance between Bradley Cooper and Lady Gaga at the Oscars when the two performed a sensual and intimate rendition of their award-winning song "Shallow."
Bradley's ex-wife, 45-year-old Jennifer Esposito seemed to join the camp that thinks the sparks between Lady Gaga and Bradley are real, as Jennifer responded with an affirmative, "Ha" to a post on Instagram by David Spade asking sarcastically if there was any chance Gaga and Bradley weren't romantically involved.
The two briefly got married for four months in 2007 before Jennifer filed for a divorce. While spotted out on their drive following the Oscar's it was clear that Irina was not a happy camper. Although happenings at the Oscars could feature quite high on the list of reasons for Irina's unhappy look, it could very well be for any number of things.
Bradley and Irina got together in 2015 and welcomed their daughter Lea De Seine into the world in 2017.
Seating arrangements between the three on Oscar night bemused fans as Irina sat with Lady Gaga to her left and boyfriend Bradley on her right. One fan just had to post an update on Twitter:
Both Irina Shayk and Bradley stepped out of relationships with others and into a relationship with each other without missing a beat. Irena was the first to become single when she left Cristiano Ronaldo in January 2015 after a statement to Associated Press.
Bradley soon followed in March 2015 when he and Suki Waterhouse broke up after a relationship that lasted two years.
The next couple of months got littered with rumors surrounding Bradley and Irina's relationship, but it wasn't until she got spotted on vacation along with Bradley's mum, Gloria Campano in Atlantic City in September 2015, that everyone knew they were serious about each other.
In March 2017, the couple's daughter was born, but they are notoriously private, so not many pictures of the little one are available. And for the same reason, we would probably never know for sure why Irina carried that frown along as the couple went on their outing.
Although rarely seen together in public until this awards season, Irina showed up in support of Bradley at the Golden Globes and the National Board of Review gala in New York City a few days later in January.
More ceremony's followed in February 2019 when she stood next to Bradley's side at the BAFTA Awards where his film, "A Star is Born" took the Award for original music.
During his acceptance speech, Bradley thanked Irina by name for everything she had done for him as he said:
"Most of all I have to thank Irina, for putting up with me for all the music I was trying to make in our basement for a year. Thank you very much. Thank you."
The couple was most recently seen at the Oscars together, the same place where she ended up in the middle between Bradley and Lady Gaga.
We know Irina as the Victoria Secret model, but who is Irina Shayk?
Please fill in your e-mail so we can share with you our top stories!