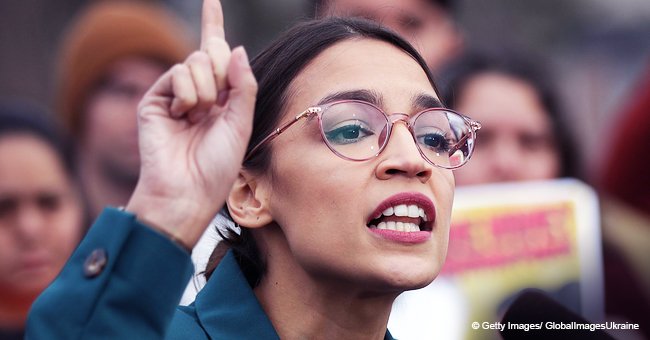 Ocasio-Cortez Thinks the Question 'Is It Okay to Still Have Children?' Is Fully 'Legitimate'

In her weekend live streaming, on which she answered questions from Instagram users, the young politician addressed the issue of bringing new children to the world as it is today with climate change and debt.
29-year-old freshman Democratic Representative for New York Alexandria Ocasio-Cortez discussed many topics with her followers in the social network, from the most trivial to the most transcendental, from her kitchen.
Amid jokes about what President Donald Trump would put in his chili, and while making vegetarian chili and having some wine, Ocasio-Cortez talked about young people wondering if it is a good idea to have children in today's America.
"There's scientific consensus that the lives of children are going to be very difficult. And it does lead young people to have a legitimate question: is it okay to still have children?"
-Alexandria Ocasio-Cortez, Twitter, February 24, 2019.
Ocasio-Cortez linked this to some of the issues she is most worried about, such as climate change and the high cost of college education, and she cited both financial and moral questions that have to be considered.
She mentioned people who just graduated with a big student loan debt to worry about and how difficult it would be for some of them to support a child, in addition to our "moral obligation" to the children that are already in the world.
"We need a universal sense of urgency, and people are trying to introduce water damp proposals that are frantically going to kill us. A lack of urgency is going to kill us," she warned.
"It doesn't matter if you agree that climate change is an important issue. At this point, it doesn't matter. If you believe climate change is a problem that's not even the issue. The issue is how urgently you think you need to fix it," she added.
All these issues and concerns are behind Ocasio-Cortez's first piece of legislation, her Green New Deal proposal, which covers many aspects from tackling inequality and injustice and creating jobs to reducing greenhouse gas emissions to zero.
Of course, her ambitious resolution, although non-binding, has met great criticism, not only from Republicans who called it "a socialist wish list" and who argue that it would kill jobs instead of creating them and that it would harm global trade.
Despite her many detractors and thanks to her controversial personality and openness, Ocasio-Cortez has shaken US politics whether we like it or not, and her influence in the public keeps growing.
Since she became the youngest woman ever to be elected to Congress in November 2018, her social media platform has only kept growing, and recently her emotional speech on corruption at the House of Representatives was "the most viewed video of any politician."
In fact, according to news editor Jon Laurence, the video of Ocasio-Cortez's speech is the 41st most viewed Twitter video of all time.
Considering all this, it is not hard to imagine that in the current polarization over political thinking and generational gap Ocasio-Cortez is seen as a hero by many people.
In response to this, independent publisher Devil's Due announced the upcoming release of a comic book called "Alexandria Ocasio-Cortez and the Freshman Force: New Party Who Dis?" on which she stars as a superhero.
The book's creator Josh Blaylock said it will feature "a collection of stories that all embrace the theme that we're excited about all of the energy and positive change this new crop of Congresspersons is going to bring."
The comic, edited by the same house that gave us titles like "Barack the Barbarian" about former President Barack Obama, will be out in May.
Please fill in your e-mail so we can share with you our top stories!