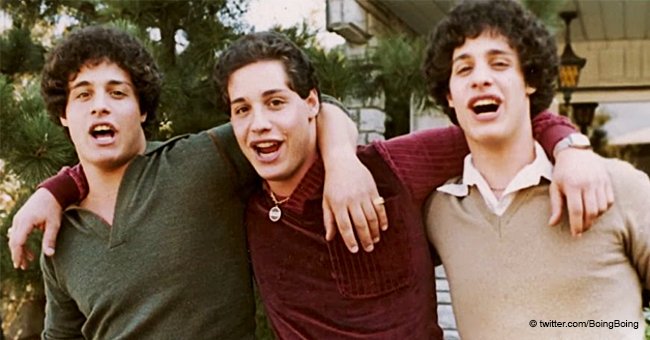 Tragic Story of 3 Young Men Reunited After Discovering They Were Separated Triplets
Brothers Eddy, Bobby, and David found each other by accident, but the fact that they were identical triplets took the reunion to a whole new level.
The documentary "Three Identical Strangers" follows the mysterious story of triplets separated at birth as part of a bizarre social experiment conducted secretly by psychiatrist Dr. Viola Bernard for research on the effects of nature vs. nurture. She was a consultant of the Manhattan adoption agency called Louise Wise Services and worked with them to devise an intricate plan to set each child up in a family designed for the experiment with visiting access for tests and observation.
But as luck would have it, brothers Eddy and Bobby ended up in the same community college in New York. Thanks to classmates who mistook the new student, Bobby, as their friend, Eddy, they met and realized they were twins. Another surprise was still on its way for the brothers because when their story was published in the local papers, David Kellman came forward with the news that he was also their brother completing the rare identical triplets. Their connection was instant.
Their biological mother was a teenage, unmarried girl that still managed to breastfeed them all together for six months before their adoption. The closeness they received during the nursing period accounted for the period difficulty all three babies experienced after moving into their new homes. They had separation anxiety. And in the years to come, more issues manifested and all three got psychiatric help.
Tim Wardle, the director of the documentary, said,
"I think it's impossible to overstate the impact that it had on them."
Their adoptive families were as much in the dark as the children were. They felt betrayed but were not offered an apology by the adoption agency.
The project was four years in the making with many challenges in seeing it through. Wardle says of the journey,
"When we first started to work on this story, there was media around their reunion in the 1980s, and there was a tiny bit later in the '90s. But apart from that, there was nothing. We had to piece this together and put it together from scratch. It was a lot of persistence and old-fashioned journalism, knocking on people's doors. It wasn't the kind of story you could research looking on the internet."
Only Bobby and David were alive to share what the ordeal meant to them. For the most part, they keep a positive attitude towards everything they've been through. They feel that in the end, it's family that truly matters. And the film allowed them to spend more time together and "that was the most valuable thing that came out of this film."
Please fill in your e-mail so we can share with you our top stories!