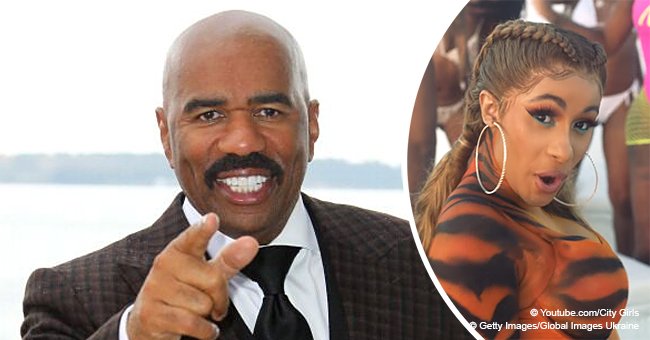 Steve Harvey Stirs up Talk after Revealing He Watched Cardi B's 'Twerk' Video 26 Times

Steve Harvey stirred up some talk after he revealed on a "Steve" episode that he watched Cardi B's latest twerking video a total of 26 times.
Being the comedian that he is, Steve Harvey gave his audience a good laugh after the 62-year-old revealed that he watched the newest video for the song "Twerk" by City Girls and Cardi B a total of 26 times. According to Steve, it wasn't his intention to watch the clip, but after his son and assistant showed it to him, he ended up watching it again and again.
My son and assistant showed me the Cardi B 'Twerk' video. I was just sitting there shaking my head. I looked at this thing 26 times."
Although one might think Steve watched it multiple times because of the women in the video, he made it clear that he wanted to understand the video, but the way it was created made it difficult for him to do so.
"[...] the thing that made me mad about the video, y'all make videos now where they just show flashes and they flash again. I was trying to pause it, slow it down. Where you going? That's why I had to watch it so many times."
The music video for the song has already hit more than 50 million views on YouTube, and although it seems as if it's just another provocative song, it has actually been praised to be empowering, which co-director for the video Sara Lacombe said that was the whole point of it.
STEVE VS. MO'NIQUE
This new clip is a breath of fresh air for Harvey after he was heavily criticized for the feud he had recently with long-term friend Mo'Nique. After the two sat down to discuss the comedian's claims of being "blackballed" from Hollywood, things got heated so quickly and people ended up throwing shade at Harvey for hinting that money is more important than integrity.
Steve previously criticized Monique for "burning down too many bridges," something that she's been doing since she claimed Hollywood had banned her from ever gaining worldwide success. He got a taste of this accusation he made after it turns out he too would be shut out of Mo'Nique's life after their heated argument.
According to Mo'Nique, she got labeled as "difficult" because she said 'No.'" She refused to do more promotional rounds for the film "Precious," which upset Lee Daniels, Oprah Winfrey, and Tyler Perry. However, she only said no because they refused to pay her for those rounds, something that they did with other artists.
When Steve went on to say that in the end, Hollywood is a money game, that's when Mo'Nique knew their friendship was over, as Harvey values money more than integrity.
"We black out here. We can't come out here and do it any way we want to. Your husband can't be the Sidney [Hicks] that he really is out here [...] This is the money game. This ain't a black man's game, this ain't a white man's game. This is the money game!"
In the end, both of them ended their talk on such a bad note, that it seems it might have burned the bridge between both of them, too.
Please fill in your e-mail so we can share with you our top stories!