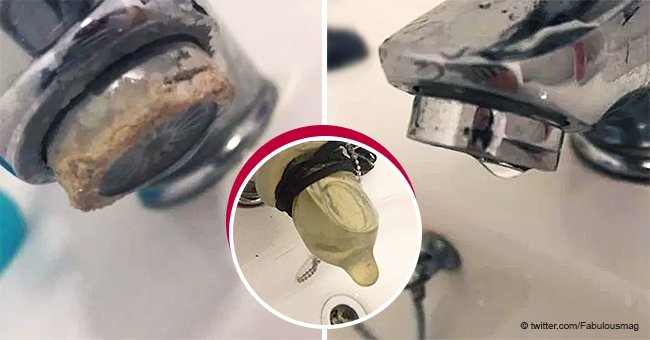 Mom Finds a Clever Way to Use Condoms to Make Her Kitchen Tap Gleam Overnight

Nothing like a life hack that can make something multifunctional, but one mum found an interesting alternative use for condoms that would surprise many.
The mum found this bizarre but effective way to clean limescale from taps and shared the tip on a Facebook group called Hinch Army Cleaning Tips.
The finished product was sparkly clean taps like the day they got installed. While the method involved a condom and vinegar, an intriguing thought while also not two things one would dream of associating with the other, hopefully.
But by filling the condom with vinegar and tying it over a tap in need of cleaning overnight, the absence of limescale is merely a wipe away by the following morning.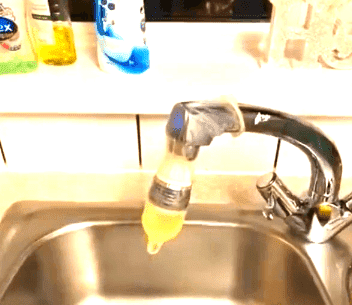 Vinegar filled condom secured over a tap.| Photo: YouTube/Royal Magazine Az
As many would have guessed by now that anything similar would do the trick as well like a balloon or latex glove, but perhaps the use of condoms may provide some morning entertainment when the rest of the family wakes up.
Vinegar is excellent for limescale everywhere, from your taps to the shower and will even decalcify your electric kettle with ease.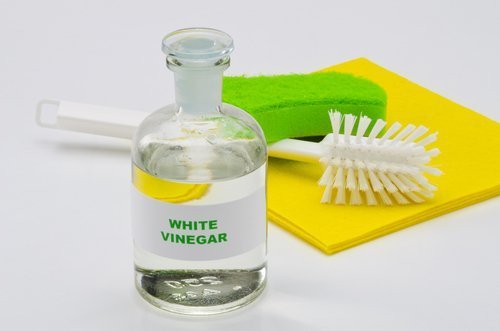 White vinegar in a glass bottle.| Photo: Shutterstock
It's as easy as boiling a mix of water and vinegar to break down the build-up of limescale. It is advisable not to forget to rinse the kettle thoroughly before further use as your next cup may be vinegar flavored coffee.
However, the use of vinegar stretches to the ability to absorb odors as well. It can help against bad cooking smells or nasty fumes for example and works best if placed in a bowl close to the source of the smell.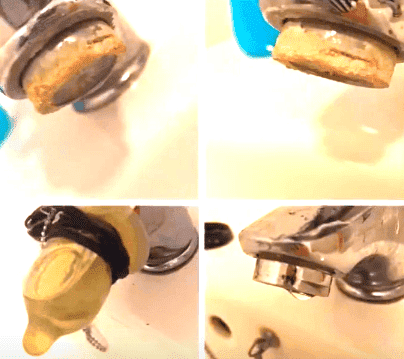 Shots taken before and after the vinegar application.| Photo: YouTube/Royal Magazine Az
Baking soda and vinegar is the power couple of cleaning and makes sure to have hard to clean places free of any stuck residue quickly. It is great for deep cleaning the loo and unclogging a drain.
The bubbling power of the two together will break up and dissolve all that shouldn't be there leaving a shiny clean loo and drain behind. Baking soda on its own is also a jewel in your household cleaning arsenal.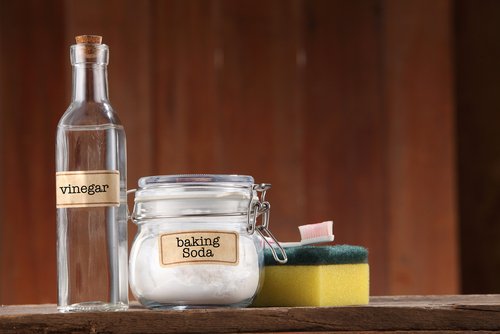 Vinegar and baking soda.| Photo: Shutterstock
It's a jack of all trades and can fix the annoying thermos issue everyone experienced at one point or another. The first liquid you pour in there will have its taste linger for eternity. However, three teaspoons of baking soda and added boiling water left overnight will have it smell like new by morning.
From cleaning your ceramic glass stove to making your muffins rise, baking soda sure is handy to have in the cupboard, alongside the white vinegar of course.
Vinegar, on the other hand, could also become the best friend of anyone who deals with common laundry issues regularly.
Please fill in your e-mail so we can share with you our top stories!