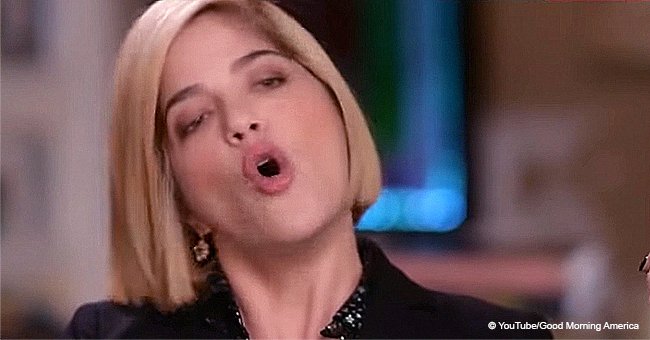 Selma Blair Reveals Michael J Fox 'Gives Her Hope' in Her Hard Battle with Multiple Sclerosis

Selma Blair makes her first appearance in public since her Multiple Sclerosis diagnoses late last year. She reveals details of the ugly battle, challenges faced and fellow celebrities who have been there for her.
In October 2018, Semla Blair made public the shocking news of her Multiple Sclerosis which she found out about two months prior.Impressively, she is rising above the shame and sadness and has come out once again to share her experience of the disease in an interview with Robin Roberts on "Good Morning America."
"I cried. I had tears. They weren't tears of panic. They were tears of knowing I now had to give in to a body that had loss of control," Blair said.
She went further to state how the birth of her son woke the fighter in her.
"And there was some relief in that 'cause ever since my son was born, I was in an MS flare-up and didn't know and I was giving it everything to seem normal."
The 46-year-old further explained how she resulted to drinking to deal with the shame she felt after she was not taken seriously by doctors. She also went on to mention the impact a good friend, Michael J. Fox had on her sclerosis journey. He was that buddy who was helpful and kind enough to join her in the survival battle.
"I said, 'I don't know who to tell, but I am dropping things. I am doing strange things.' He got in touch with me and we began a conversation. So he really helped," Selma said about Fox.
About her more difficult days, Blair said:
"I get in bed and I don't move. You just have to. You can't do it all. It's fine to feel really crappy and say, 'I got to.' And my son gets it. And now I've learned not to feel guilty."
Her reports to Roberts was with the good news that her current prognosis is worthy of thanksgiving. She explained that the condition would be getting better with time and she could regain control of up to "90 percent" of her abilities.
Impressively, the star has found a new strength and cause as she hopes to "see for other people" while also getting herself back up. Her choice to come out to the public with her struggles according to her doctor will "bring a lot of awareness" and "increase research funding for the disease. There are some hard facts about MS; one of them is that it is a neurological disease that affects the body's immunity by attacking the body's myelin in the immune system.
Please fill in your e-mail so we can share with you our top stories!