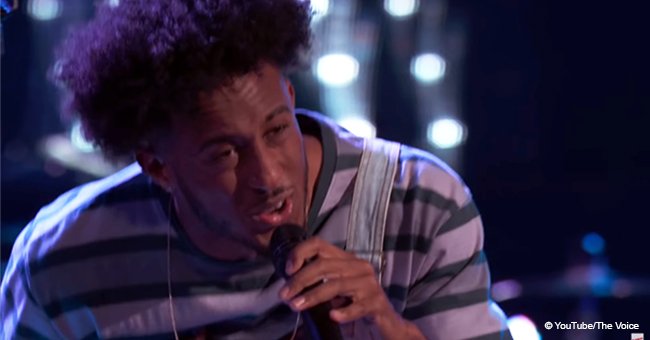 Adam Levine Declared Young Ex-Jock His Favourite Singer from All 16 Seasons of 'the Voice'
Season 16 of the singing competition has just started with its blind auditions, and an 18-year-old contestant has impressed the Maroon5 singer so much as to call him his favorite from all seasons of the series.
On February 25, coaches Blake Shelton, Adam Levine, and Kelly Clarkson returned to their seats on "The Voice" to form their teams and get to know this season's contestants and pick up their favorites.
John Legend joins the team as the newest coach, and he has already met resistance from Levine, who didn't shy away from blocking the new member from the possibility of recruiting the contestant that captivated the latter so much.
It took only four seconds for Levine to turn his chair around to look at 18-year-old Domenic Hayes after he sang the first line of his chosen song, and he took the precaution of blocking Legend to keep him from stealing his new favorite.
We can tell Legend was really into Hayes' singing as well, as he was the second to turn his chair around, and he was visibly enjoying the act before learning that he had been blocked, which made him exclaim: "I hate you, Adam."
"I think you might be my favorite singer in all 16 seasons of the show. There's a raw soul that is missing right now from music. And when you get that feeling, as one of us, your hand is drawn to that thing [the button.]"
-Adam Levine, The Voice, February 25, 2019.
"I want to make sure you understand that I felt something in my bones when I heard you sing than I am lucky to feel ever in my life," Levine later told the aspiring singer from Tampa Bay, Florida.
Haynes' rendition of Leon Bridges' "Rivers" was so good and unlike most things we get to hear today on the radio –as Blake Shelton pointed out- that it made three out of the four coaches fight over him and compliment him so much.
Even though he knew he had no chance to get Haynes on his team because of the blockade –his second in the episode- Legend asked to speak first, also calling the young singer his favorite.
"You're my favorite singer I've heard. Your tone is so interesting and beautiful. You made such excellent choices with every note you sang. It had so much subtlety and nuance," Legend expressed.
But with Legend out of the picture, it was no surprise that Haynes ended up choosing Levine as his coach.
On the following episode of the current season, Legend was determined to seek his revenge against the rest of the coaches, after he complained about being "the most-blocked coach in 'Voice' history."
And, of course, he took his greatest pleasure in giving Levine a little of his own medicine, when the "All of Me" singer blocked Levine from any chance to recruit 25-year-old Julian King, who sang Jon Bellion's "All Time Low."
"You got me by a millisecond," Levine told Legend, after the two went for their red buttons almost at the same time, with Legend making it first just by a little, prompting Kelly Clarkson to call it "the most amazing block."
"It had to be payback. He blocked me for someone I really wanted. …Sorry Adam," Legend said.
Levine, who has been a coach in "The Voice" since its first season in 2011, is feeling at home once again, after facing a difficult time in his in-between-seasons break when his act on the Super Bowl didn't go as expected.
The singer and his band Maroon5 failed to impress the audience during the sports event mid-time, and he was shamed and criticized by the public at large. He was thankful to play the gig anyway, as he wrote in his Instagram.
"We thank the universe for this historic opportunity to play on the world's biggest stage. We thank our fans for making our dreams possible. And we thank our critics for always pushing us to do better. One Love." Levine captioned one of his photos.
Please fill in your e-mail so we can share with you our top stories!