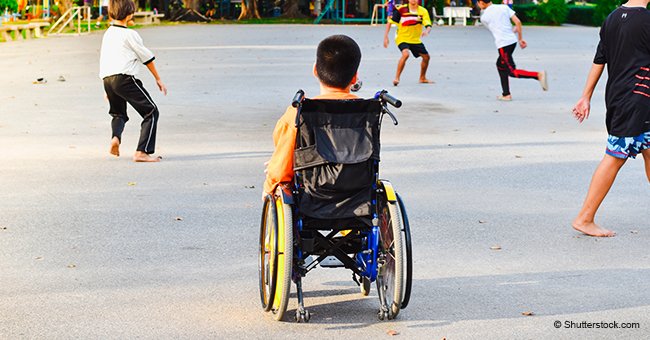 Trusty Dog Is Happiest When Pushing Disabled Human Friend in His Wheelchair
Not only this adorable dog shows great loyalty and intelligence as he helps his teenage owner move around in his wheelchair, but he seems to quite enjoy doing it.
This is another proof of the old saying "dog is man's best friend." The longtime companion of the human race is as smart as it is loyal, and this is a precious combination that makes them capable of outrageous things.
During the GDLUZ festival that celebrated the 477th anniversary of the Mexican city of Guadalajara, somebody captured an unforgettable scene at Plaza Tapatía and shared it online, turning it into a viral sensation.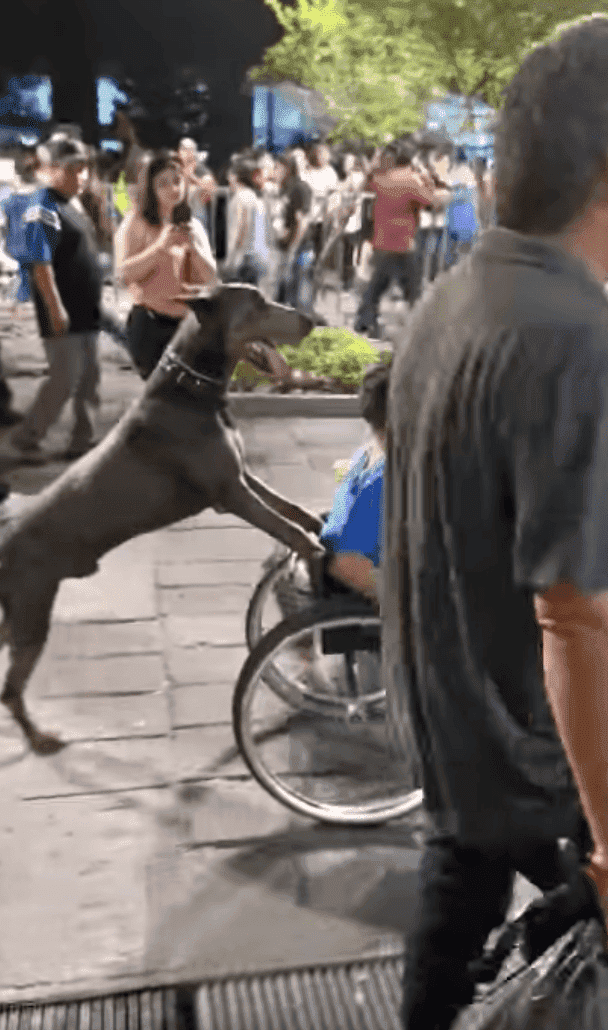 Bystanders stopped to take pictures and recording videos with their phones when they noticed. l Image: YouTube/ ViralHog.
In the caption of the video, viewed more than 9.000 times so far, the person behind the camera revealed the names of the two interspecies friends and how this situation came to be.
"I saw this dog trained with the name Leo, helping a young man named 'Owen' who told me that the dog is being trained by his uncle."
-Anonymous bystander, YouTube, February 18, 2019.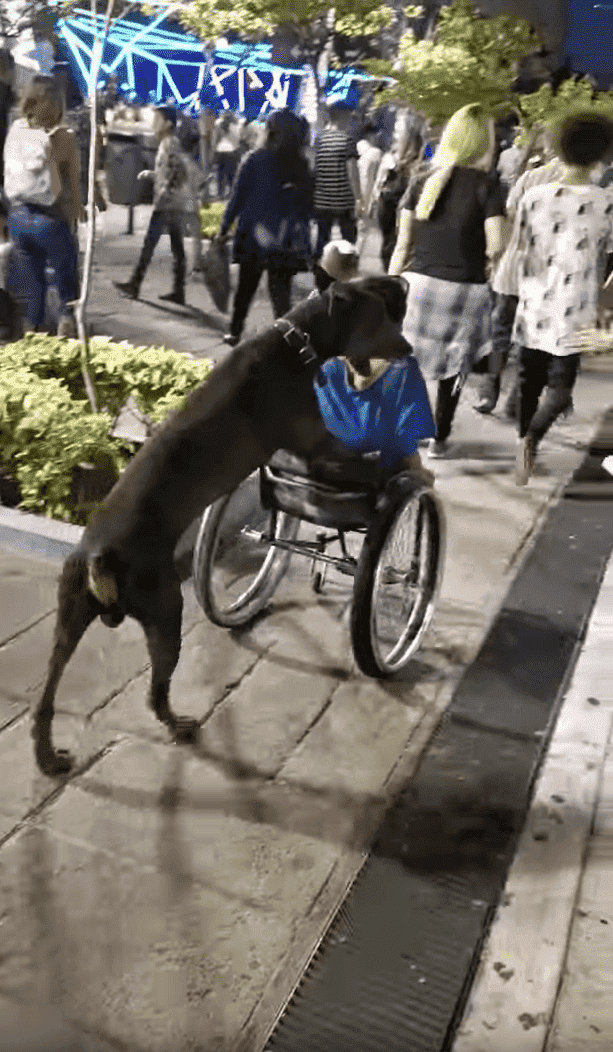 Leo takes his task very seriously and carefully watches where he is going. I Image: YouTube/ ViralHog.
Leo can be seen using his front paws to push the wheelchair as he kept walking with his hind legs, with Owen, who has no legs and is wearing a blue t-shirt takes care of the turns to go in the right direction.
The pair is accompanied by an older man wearing a gray shirt, possibly the boy's uncle that the bystander told the news outlet about.
"One of the most fascinating and heartwarming things I've ever seen."
We have no doubts that Owen is an independent and determined young man that wants to enjoy a leisure event in his community, but it can be really tiresome to move around in a big and crowded place using only one's arms.
Luckily for Owen, Leo is always there for him to push him around. We can easily imagine that this is not the first time this happens, because Leo certainly looks like he is perfectly aware of what he is doing.
"One of the most fascinating and heartwarming things I've ever seen; may God bless Leo and Owen; thank you very much for posting," a YouTube user commented under the video shared by ViralHog.
Dogs are known to be able to help people with many challenging conditions go about, and they are traditionally known for helping blind people, but a dog pushing a wheelchair is something that we don't see every day.
Nevertheless, is not something unheard for, and this and other examples prove that a dog doesn't have to go to school to learn how to assist its owner when he or she most needs it.
A man in China reportedly gets to work every day thanks to the help of his dog, that despite not being as big as Leo uses his head and shoulders to push his owner Fu keep going.
Please fill in your e-mail so we can share with you our top stories!