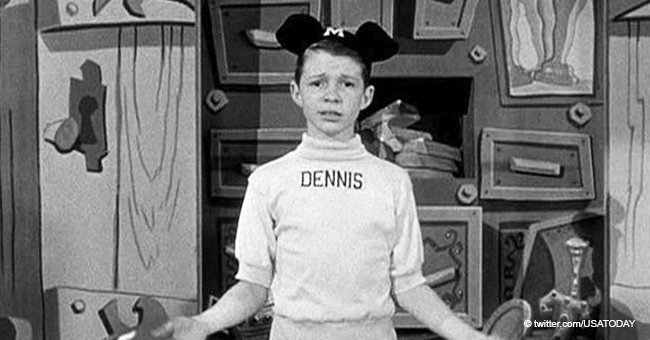 Devastated Family Search for Original Disney Mouseketeer Dennis Day, Missing for 7 Months
Police are still looking for answers regarding the unusual disappearance of former Mouseketeer Dennis Day seven months ago.
Part of the original Disney 1950s Mickey Mouse Club, he remained a celebrity throughout the years and it made his disappearance even more public and baffling.
76-year-old Dennis was among the most famous child performers of that time on American television. But one day he simply vanished from Phoenix, Oregon. His sister, Nelda Adkins lives in Coalinga, California and told USA TODAY, "The way it looks now unless we find a body, we're not going to find him."
According to Lt. Jeff Price from the Phoenix police department, things don't look good either. Dennis had not touched his bank accounts, and police found his car in possession of two strangers about 200 miles away from the Oregon coast. The strangers claimed that Dennis let them borrow the car and had no idea where he is.
On the day Dennis disappeared his partner of over 45 years, Ernest Caswell had a bad fall and got hospitalized, his dog was also seen wandering around, and he also left behind their cat. According to family, it is very unlike him to just up and leave without saying anything. Before he left the house on foot, Dennis said he was off to visit friends, and never returned.
Police searched every nook and cranny of the area and found no trace of Dennis or any leads that could lead them to Dennis. The impounded car got searched inch by inch, and police could see no sign of foul play.
The former Mousekateer's debit card got found in possession of a temporary roommate who insisted not to know anything about Dennis' whereabouts, according to Lt. Price.
Most of his friends and family didn't notice that Dennis was missing and it wasn't until two weeks after he last got seen that police got notified. Some of the family only found out in January when Oregon TV aired a story about Dennis' disappearance.
Lt. Price confirmed Dennis as a missing person and told PEOPLE:
"I initiated the case on July 27 of 2018. As of today, with the help of the Oregon State Police, Jackson County Sheriff's Office, National Missing and Unidentified Person System, and numerous friends and family, the case remain open with no leads as to Dennis's whereabouts."
Dennis' husband, Ernie originally filed the missing person's report and allegedly suffers from "age-related memory loss," but Nelda can't believe that her brother would just voluntarily vanish and neither does Dennis' niece Denise, who told NBC:
"He's not the type of person who would just disappear. Especially with his significant other being in the hospital — he was very dedicated to him. We are worried. [We] just need answers. We love him. We're just kind of lost with what to do, or how to find him."
Dennis is described as 5'7″ with gray and brown hair and weighing about 150 lbs. Anyone with information about Denis Day 's disappearance can call Lt. Jeff Price of the Phoenix Police Department at 541-535-1113, ext. 309, or the anonymous tip line at 1-888-960-6450.
In a similar case, the outcome was unexpected after Layla Leysha got found four years after she disappeared in 2014. But it's where she got found that amazed everyone.
Please fill in your e-mail so we can share with you our top stories!