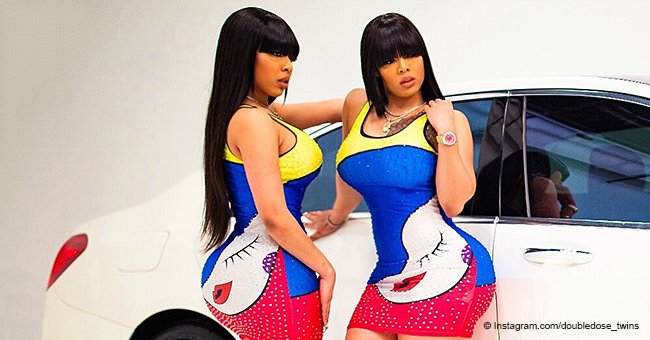 Instagram/doubledose_twins
Meet Identical Twins Who Allegedly Do 2,000 Squats a Day to Make Sure Their 40-Inch Bottoms Match
Miriam and Michelle Carolus, from Miami, Florida, have earned social media fame thanks to being identical twins from head to toe.
The sisters work hard to maintain the same body shape, going as far as allegedly doing 2000 squats a day to make sure their exotic bottoms match.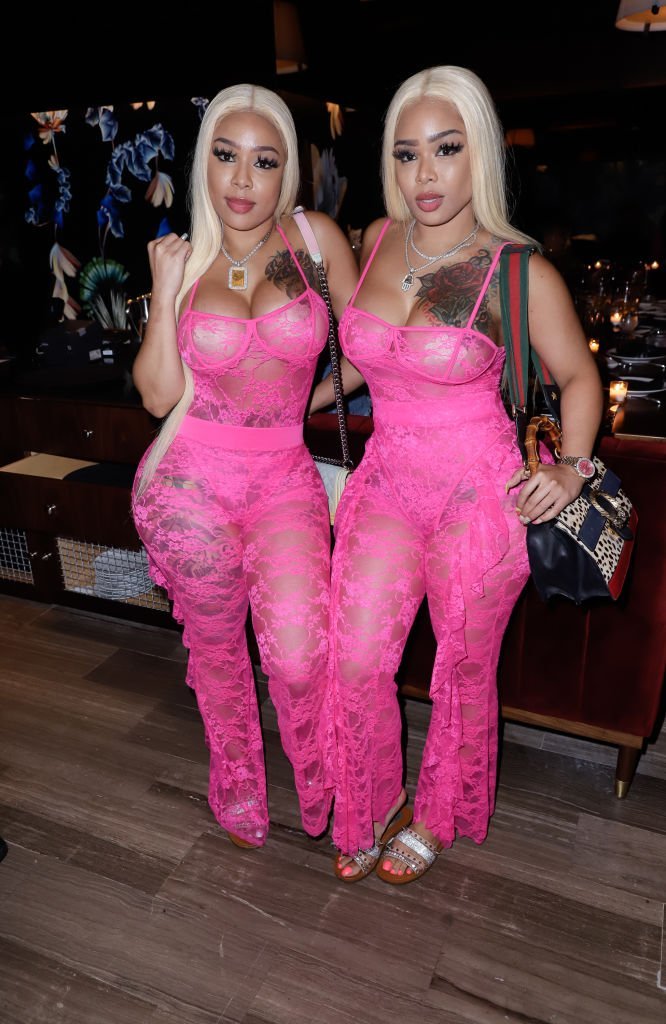 Miriam and Michelle Carolus on August 18, 2019 in Miami, Florida | Source: Getty Images
They look like two peas in a pod
While most twins go their separate ways as grown-ups and stop dressing the same to reclaim their independence, this pair of sisters have done things differently.
The models wear the same clothes, hairstyle, makeup, and shoes, but that's not all. They also make sure to lead an identical lifestyle, following the same diet and exercise routine to make sure their bodies are a mirror of the other.
Known as the "Double Dose Twins," Miriam and Michelle have more than 1.5 million followers on Instagram, where they often delight their fans with photos of their skimpy outfits, provocative poses, and their best twerking videos.
"For a relationship to work with one of us, the man would need to love my sister but never see her in a sexual way."
They haven't gone under the knife for her buttocks
The girls say that 90% of their profit comes from their best assets: their buttocks. The girls are the envy of many women for their allegedly natural bottoms. They deny having gone under the knife to enhance their derrieres surgically and credit their shape to their strict exercise routine.
They allegedly do up to 2000 squats a day –100 each hour over eight to nine hours to reach the desired number. They also combine a mix of boxing, MMA, plyometrics, soft-touch CrossFit, and weight training to keep in shape.
They spent $20,000 on breast surgery, though
According to Daily Mail, both twins have the same body measures, 36-28-40. Miriam said:
"We generally stick to a healthy diet, and it's the same all the time. We are very strict about this. We will work out the exact same and make sure that if one of us has done more the other will have to catch up."
The duo admitted they did have plastic surgery to enhance their breast, getting a first matching $5000 surgery in January 2013, which took them to a C-cup, and then a second procedure for D-cups in November 2017 for the same price.
Things have been hard for them, romantically speaking
Although the girls are doing great business-wise thanks to their appearance, their twin-bond has taken a toll on their love lives. Each one has gone through heartbreak, but none of the men they've dated were able to keep up with the sisters and the fact that they spend most of the time together. Michelle said,
"It's been very challenging. For a relationship to work with one of us, the man would need to love my sister but never see her in a sexual way, even though we both look the same and have the same curves."
"It's kind of hard. He has to understand that, 'this is my girl, this is her sister' and they are always going to be around each other."
The twins are a sensation in Florida and have traveled as far as Dubai for modeling campaigns. They are also the owners of a lingerie line named "Dose of Desires," and they share their booty-making exercises with other women through private classes at a local gym.
About her attributes, Michelle said:
"Being a twin is a gimmick. But being twins with these booties is the biggest gimmick."
Asked about where they see themselves in five years, Michelle said that maybe they need to try a new approach to love. "Maybe in five years we'll both be married to twins," she said. "Twins understand twins."
Twins marrying twins
Although the chances of the girls marrying twins like them are slim, the possibility is there. Twin sisters Brittany and Briana Deane are an example of that. They married twin brothers Josh and Jeremy Slayers in 2018.
In the fairytale wedding, the two brides-to-be ensured that everything about the wedding seemed exactly the same for both the sisters – including their husbands as well as the ministers, who were also twins.
The wedding took place at the Twins Days Festival in Twinsburg, Ohio in the theme of "Twice Upon a Time." Britanny said that it was hard dating someone who doesn't understand the "twin bond." About their unique relationships, Briana said:
"Marrying twins is something that's very important to us. Even when we were little girls I can remember being in kindergarten, knowing that that is what we saw for ourselves."
Please fill in your e-mail so we can share with you our top stories!