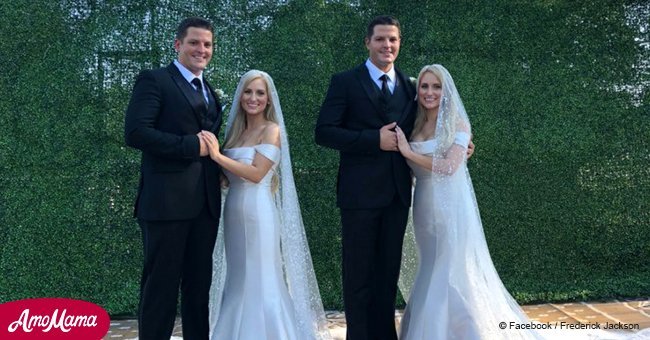 Identical twin brothers marry their identical twin fiancées in a fairytale wedding
32-year-old twin sisters Brittany and Briana Deane married 34-year-old twin brothers, Josh and Jeremy Slayers, and the wedding day seemed to be one picked out straight from one of the storybooks.
In the fairytale wedding, the two brides-to-be ensured that everything about the wedding seemed exactly the same for both the sisters – including their husbands as well as the ministers, who were also twins.
As per a report from People, the wedding took place at the Twins Days Festival in Twinsburg, Ohio in the theme of 'Twice Upon a Time.'
Speaking to the source, Briana said, 'Marrying twins is something that's very important to us. Even when we were little girls I can remember being in kindergarten, knowing that that is what we saw for ourselves.'
Follow us on Twitter to learn more.
Even for Josh and Jeremy, getting married to identical sisters was absolutely important. So much so that they vowed to not tie the wedding knot unless they fell in love with identical sisters.
Brittany told in the interview that the twin brothers might have also faced similar challenges which they faced while dating 'singletons' or 'non-twins.'
"It's hard when you're dating someone and they don't understand the twin bond," she explained to the online source.
The sisters thought that the chances of them falling in love with identical twins were 'incredibly scarce.' However, the unlikely event became possible at last year's Twins Day Festival – the largest gathering of the twins in the world – where the Slayers brothers caught their eye.
On the day the Slayers brothers proposed the sisters, they wore matching blue gowns while Josh and Jeremy wore matching suits and blue ties. Then both the brothers went down on one knee and proposed the girls at the same time.
'We have done so much in life together. Having twin loves of our lives and to accept their marriage proposal at the same time made it that much more special,' Brittany told ABC News at the time.
Please fill in your e-mail so we can share with you our top stories!