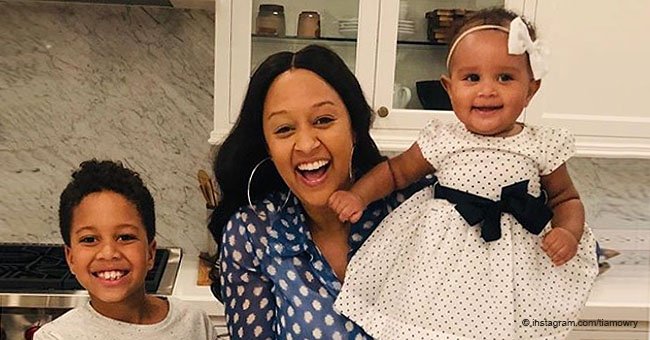 Tia Mowry Shares What She's Teaching Her Children about Being Black in America
Growing up black in America is not easy, and Tia Mowry is aware of that. So, now that she's a mother of two, the "Sister, Sister" actress wants to make sure she teaches her kids how to handle racism because whether she like it or not, the chances they're going to face close-minded people in their lives is high.
Tia Mowry is looking out for her adorable kids and teaching them about a not-so-happy subject at home: racism. Although her daughter, Cairo, is still too little to understand, Tia is already working on her 7-year-old son, Cree.
The boy already faced ignorance at its finest on summer camp. A kid, Tia explained, told Cree that his skin color wasn't pretty.
"Discrimination and hate speech are born out of narrow-mindedness that only considers one way of living and doing things."
"It brought me back to when I first heard the N-word, and my mother explained, 'There are some people out there who don't like black people, and they are mean.' I was 8 years old," Mowry recalled on a new op-ed she wrote for Romper.
Growing up black in America, sadly, comes with a high risk of facing people that don't like what's different from them and would do anything to let the world know. Although racism has always been present, it seems like the past years the hatred has skyrocketed with social media being at the center of it all.
"Whether or not you want to address racism with your children, you must because ignorance is out there and they need to know how to handle it," Tia shared.
"Being a black mom, it's very important for me to share my history with my kids. I not only want them to understand and know their culture but also to learn everything they can about other cultures."
For Mowry, discrimination and hate speech are born "out of narrow-mindedness that only considers one way of living and doing things." That's why she's making sure her kids are open-minded and educated.
Whenever Cree is not in school, he travels with her around the world.
"I want him to see there are other people in the world that don't look and sound like you," she explained. "I want him to be open-minded, educated, and understanding in how other cultures function both at home and around the world."
On the recent MLK day, Tia says she talked with Cree about all the wonderful things King made for their community, and once her daughter is grown, she'll do the same with her. "I'll instill in her that her coils and the color of her skin are beautiful, but not only that — that true beauty comes from within," she stated.
And continued:
"When she is grown like mommy is now, she will be a proud black woman, and she will know that who she is as a person and the culture she comes from are wonderful no matter what anyone else thinks or says."
Overall, Tia wants to teach her kids to love unconditionally. Even though she's aware of the adverse effects of racism and hate speech, she believes that love always wins.
Tia's twin sister, Tamera, knows what is like to deal with hatred. She's married to Adam Housley, a white journalist that used to work with FOX, and they have received mean comments about their interracial marriage for years.
Some people even accused Housley of being racist because of his work at the news channel.
However, both Tamera and Adam have addressed the issue, letting everyone know that no, Adam is not racist, and going as far as to reveal they did not vote for Trump or Hillary Clinton.
Hously took to Twitter to defend himself, writing:
"No I am not racist, or insensitive, or any other crap you spew. Yes, I love people from all walks of life. It's just easy to attack...misrepresent..call names...do what you can from afar to try and tear down love. I know this...and I'll leave it here."
Considering that hatred and bigotry hit so close home, it is only natural for Tia to take an active role in teaching her kids about these subjects.
Please fill in your e-mail so we can share with you our top stories!