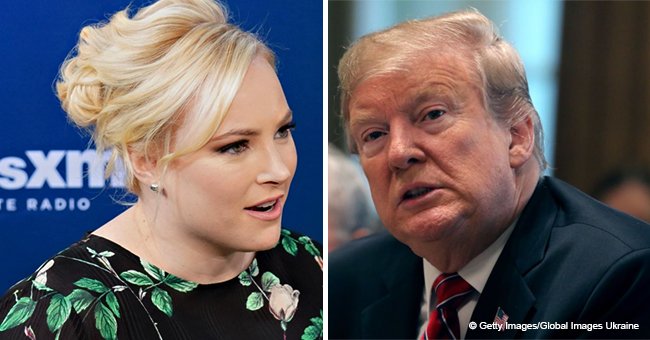 Meghan McCain Slams Donald Trump for Mocking the Heroism of Combatants during Vietnam
Hardly two peas in a pod, Republicans Meghan McCain and Donald Trump took to Twitter to brag about who did Vietnam better.
The View co-host Meghan McCain is loud about the issues she supports. And while she and Trump belong to the same party, they have made it clear that they don't always get along. Especially after the president's constant criticisms against Meghan's late father, Senator John McCain.
Trump's comment during the 2015 campaign period during the Family Leadership Summit saying the senator was "not a war hero" because he was captured and tortured for five years, was condemned by both Democrats and Republicans. Trump was asked to apologize for the disrespectful statement, but he never obliged.
So it wasn't a surprise that the president was asked not to attend Senator John McCain's funeral at the National Cathedral in Washington, D.C.
In her eulogy, Meghan made strong references to Trump without mention of his name.
Meghan's most recent irritation came after Trump's boastful post on Twitter.
Her reply received much support from her followers.
"Hanoi Hilton" is slang for the Hỏa Lò Prison which is now a museum. The prison was where Senator McCain was held and tortured.
And it's apparently not water under the bridge for the two families. Meghan says of the president,
"The president's obsession with my father 6 months after his death is pathetic and telling - even at a time when he should be focusing on his message to the American public and the state of our union - the greatness of my father's life and legacy haunts you."
Six months since her father's passing, Meghan is still getting used to life without him. She still often posts about him.
She is also still sore about the fact that Ivanka Trump and Jared Kushner attended her father's funeral Trump's daughter and son-in-law weren't who she wanted to see when she looked up during her fiery and emotional eulogy.
Her view on the matter,
"Even though it was a very public funeral, we are still a family. It was important to me that we kept it respectful and calm and not politicize it."
Please fill in your e-mail so we can share with you our top stories!